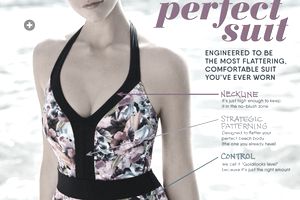 The Lands' End catalog is a free women's clothing catalog / plus size clothing catalog that sells classic clothing with romantic and modern editions.
Inside the Lands' End catalog, you'll find outwear, sweaters, tops, pants, dresses, jackets, swimsuits, shoes, activewear, and accessories.
You'll also find Land's End home decor catalogs and kids clothing catalogs.
How to Request a Lands' End Catalog
There are many different Lands' End catalogs available for you to request.
You'll need to visit Lands' End to get started.
Click the checkboxes beneath the Lands' End catalogs you'd like to have mailed to you and click Send Catalogs.
Fill out the Lands' End catalog request form with your name and address and click the Save button. You may be asked to ensure the address is correct, after which you can click Use This Address to send in your request.
If you're in the U.S., you'll receive your free Land's End catalogs in 6-8 business days and if you live abroad, you'll receive yours in 10-12 business days. Consider looking through some of the Lands' End e-catalogs while you wait.
Lands' End Catalog Restrictions
Lands' End mails catalogs to those who live many different countries including the U.S., Canada, and Japan.
Other Catalogs Like the Lands' End Catalog
If you like the Lands' End catalog, you'll also like catalogs from Chadwicks, Garnet Hill, and L.L. Bean.