Request a Free Appleseed's Catalog
How to Get a Free Appleseed's Clothing Catalog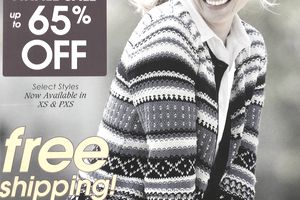 The Appleseed's catalog is a free women's clothing catalog that is a misses clothing catalog that sells classic clothing with a modern twist so you'll always be in style.
Appleseed's began selling clothes for women, men, and children in 1946, under the name Johnny Appleseed's, but now specializes in women's clothes only.
Inside the Appleseed's catalog, you'll find sweaters, blouses, tops, jackets, pants, dresses, suits, skirts, sleepwear, outerwear, and more.
How to Request an Appleseed's Catalog
If you'd like to have an Appleseed's catalog mailed to you at no charge, you'll need to visit Appleseed's Request a Catalog page. On that page is a form that you must fill out in order to get your free clothing catalog.
Just fill out the form with your first and last name as well as the full mailing address where the catalog should be sent.
When you're done, just click the Request a Catalog button to send in your request for a free Appleseed's catalog. You should get the catalog in 10-14 days.
Note: If you for some reason can not fill out the catalog request form, you might be able to get the free catalog by emailing Appleseed's or calling their customer service number at 1-800-546-4554.
Appleseed's Catalog Restrictions
The Appleseed's catalog is mailed to those with United States, Armed Forces of the Americas, Armed Forces Europe, Armed Forces Pacific, and United States territory addresses.
Other Catalogs Like the Appleseed's Catalog
If you like the Appleseed's catalog, you'll also like catalogs from Chadwicks, Delila's, Chico's, and Alloy's.
See this list of free clothing catalogs for even more.
Other Ways to Shop at Appleseed's
You can shop at Appleseed's through their website too, at Appleseeds.blair.com.
Just visit that link to find all the different ways you can find not only clothes but also accessories and shoes at Appleseed's.
Some of the menus on the Appleseed's website that separates the different items includes Apparel, Petite, Womens Plus, Shoes, and Accessories. Within those categories are subsections that help you find more specific items, like jackets, bottoms, sleepwear, jeans, boots, sandals, gloves, belts, and lots more.
The Sale menu is a good way to find the cheaper items at Appleseed's. You can find all the things that fall under $10 as well as sale items in each of the aforementioned categories. I also like the New Arrivals section, which shows all the newest jackets, sweaters, sleepwear, shoes, and more.
Another way to shop at Appleseed's is by size, in the Misses, Petites, and Womens sections. Some other filters you can use to further customize the results is to find items of a certain color, sleeve length, waist style, and price range.
Appleseed's also sells gift cards (that you can get by mail or email) and has a Monterey Bay collection with knit tops, sweaters, jackets, shirts, blouses, dresses, skirts, and more.
Tip: Before you complete any orders from Appleseed's, I recommend you check out their coupon codes and promotions page where you may be able to get free shipping and discounts.