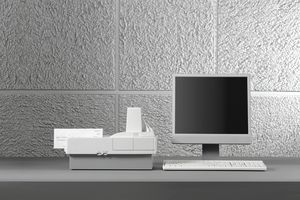 Remote check deposit allows you to deposit checks without physically getting them to the bank – no need to mail in checks or make a trip to the branch during banking hours. You just get an image of the check, submit it to your bank, and the check is processed and deposited to your account. Obviously this makes life easier, but there are pros and cons to using this service.
Just to clarify, both businesses and consumers can "deposit" checks by submitting a photo of the check. The term remote deposit generally refers to business banking customers – often using a dedicated check scanner. However, consumers with personal bank accounts (as well as some businesses with business accounts) can also simply deposit checks with a mobile device.
Does Remote Deposit Make Sense?
Before you sign up for remote deposit, make sure it makes sense for your business. This service is best for businesses that process lots of checks. You can define that however you want, but more than 30 or so checks per month might be a basic threshold.
Why is a high volume of checks important? It costs money to sign up for your bank's remote deposit service – and free alternatives might be available. More and more banks allow you to deposit checks with a mobile phone or tablet at no cost (even for business accounts), so remote deposit only makes sense if a mobile device isn't sufficient for your needs.
Remote deposit is probably faster than using a mobile device, so it might be worth your money. What's more, most banks limit how many checks you can deposit each month, and they set a maximum dollar limit on how much you can deposit via a mobile device (for example, there's a maximum of 50 mobile deposits or $15,000, whichever comes first). If you're above that limit or you've decided that your time is worth more than the fee, give remote deposit a try.
How it Works
If you're ready to move beyond your mobile device, talk with your bank about remote deposit capture. Some banks offer a free trial period during which you can evaluate the service and see if it's worth the expense. They might even throw in the check scanner for free, although you're paying for it one way or another (for example, Bank of America charges $40 per month).
Once you're signed up, you'll get a check scanner that hooks up to your computer. Generally you'll just need to type in the amount of the check, and everything else will be read by the scanner. Scanning is extremely fast, so you can move through a pile of checks quickly – faster than you could with a mobile device.
The scanner sends an image of the check to your bank, and the bank collects funds using those images. Check with your bank regarding how long to hold onto any checks you've scanned – you don't want to keep them around forever, and you also don't want to mistakenly re-deposit a check that you already deposited with remote capture.
Funds Availability (For Better or Worse)
One of the main benefits of a remote deposit service is that you can ignore "banking hours." Most banks allow you to process your checks late into the evening (until 10:00 PM or so in some time zones) to beat that day's deposit cutoff time.
In many cases, your bank will make funds available to you within one business day (although you'll occasionally face holds). That's great news, and you might think it's due to the technology, but there's also some bad news: the money didn't really move that fast. Your bank simply assumes that checks won't bounce, but it may take several weeks to know for sure if the check is good. During that time, you're allowed to use the money, but you're responsible if the check bounces – the bank will deduct those funds from your account, and if your account goes negative you'll have to deal with it (not to mention any bounced check fees that your bank charges).