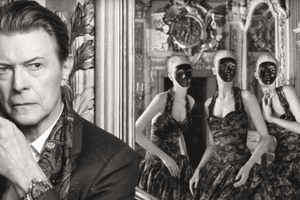 On January 10th, at the age of 69, music legend David Bowie died peacefully surrounded by family after an 18-month battle with cancer. Just like the deaths of John Lennon, Freddie Mercury, Michael Jackson, and most recently Robin Williams, his passing has had a profound effect on people around the world. And now, with social media being so pervasive, the world is grieving together on Facebook, Twitter, and Instagram.
Perhaps what is hardest to take when an artist like David Bowie dies is that he still had so much left to give. From Ziggy Stardust and the Thin White Duke to the Man Who Fell to Earth and Jareth the Goblin King, Bowie was ingrained in pop culture. But more than that, he was way ahead of his time and influenced generations of great musicians. His death leaves a void that won't be filled.
Aside from his great musical ability, and his acting skills, he was also someone who found his way into advertising. This, of course, makes complete sense. Advertising is a mirror held up to pop culture, and Bowie was constantly reinventing both himself and that landscape.
Although his music and acting career greatly overshadow his appearances in adverts, it is still worth remembering the impact he had. Here are five times Bowie lent his particular brand of style and sophistication to the industry.
Creation – Pepsi-Cola
During the eighties and early nineties, every big music star was being recruited by one of the two big cola brands – Pepsi, or Coke.
Of course, Pepsi clearly had the edge with its "new generation" messaging. Here, Tina Turner and David Bowie teamed up for a bizarre mad scientist story that is clearly an homage (or outright rip-off) of Weird Science. You'll instantly recognize the song, and Tina obviously had a lot of fun shooting with Bowie.
I'd Rather Be High – Louis Vuitton
This is exactly what you'd expect from Louis Vuitton – all style, and no substance, which is a far cry from the talent that David Bowie displayed in his career. However, although it's about as deep as a puddle in California, it is quite beautiful to look at. And, listening to David Bowie sing is never a chore. Although it has the look and feel of a vapid perfume advertisement, it does showcase Bowie's musical abilities, as he sits playing harpsichord for a lavish crowd.
Vittel Water and David Bowie's "Reality"
Call this one a twofer. Bowie originally worked with the Italian Water company Vittel to showcase the many faces of his career over the years (mimicked somewhat by this ad by Beyoncé, although she has nowhere near the creative incarnations of Bowie). It's definitely fun to see Bowie's transformations in one place, although what it has to do with water is anyone's guess. Later, Bowie repurposed the footage to promote his 2003 album "Reality." A far better use.
The Sky Is Falling – XM
Anyone who has ever seen Bowie's science fiction masterpiece The Man Who Fell To Earth will know just where this idea came from. Bowie starts the ad off, falling through a motel roof to the great surprise of a patron.
From there, other celebrities and iconic items fall from the sky, the message clearly being that XM is descending upon all of us. Well executed, and memorable. Both Snoop Dogg and B.B.King also feature.
Rock Sake – Crystal Jun
The year is 1980. Reminiscent of the Thin White Duke, Bowie sits at a piano (electric it seems) and plays a bizarre little ditty. Then, he turns his back to the camera to look into a futuristic landscape, before staring deep into our eyes. He utters one word – Crystal. No doubt it was a big payday for him, Japanese ads usually pay well for Western celebrities.