Regional Independent Bookseller Fall Trade Shows
Important Networking Events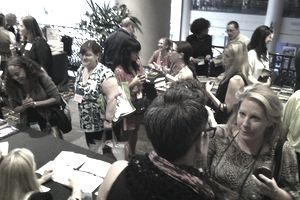 The fall Regional Independent Bookseller trade shows are important events on the annual book publishing calendar. While there are popular fall book festivals that are open to the public, these conferences are geared toward the book pros — vehicles for publishers to showcase books and authors of regional interest, and for booksellers to network and get up-to-date insights on the business. 
Because these associations each represent independent booksellers in a number of states, several of these trade show / conference events change location from year to year.
For example, recent Southern Independent Booksellers Discovery Shows have taken place in New Orleans, Louisiana; Raleigh, North Carolina; and Savannah, Georgia.
Here's a round-up of the Regional Independent Bookseller Fall Trade Shows and some of their highlight events and authors, along with links for more information about the individual shows.
September 16-18, 2016
Southern Independent Booksellers Alliance (SIBA)
The 2016 SIBA Discovery Show is taking place in: 
Savannah, Georgia
The Hilton Savannah Desoto
#siba16
(Note: the 2017 SIBA Discovery Show is taking place from September 15 - 17, 2017 in New Orleans, LA at the Sheraton New Orleans).
Past keynotes have included blockbuster bestsellers such as James Patterson. Other events include exhibits, A Taste of the Town breakfast, author panels, rep picks, and the annual Moveable Feast of Authors and Signings. For more about the conference, visit The Southern Independent Booksellers Alliance SIBA show site.
September 20 - 22, 2016
New England Independent Booksellers Association (NEIBA)
Providence, Rhode Island

Events generally include publisher exhibits, Publisher Pik-Nic Luncheon, author reception, adult author breakfast, children's author breakfast, and the New England Book Awards Banquet. For more information, contact NEIBA.
September 30 - October 2, 2016
Pacific Northwest Booksellers Association (PNBA)
Taking place at:
Hotel Murano
1320 Broadway
Tacoma, WA 98402
(253) 238-8000
Events include publisher exhibits, bookseller education sessions, Celebration of Authors, Northwest Classic Authors First Night Buffet, "Sweet and Greet," and Nightcapper event launch party.
October 5 - 7, 2016
Heartland Fall Forum
Great Lakes Independent Booksellers Association (GLIBA)
Midwest Independent Booksellers Association (MIBA)
The Depot - Minneapolis, MN
225 South 3rd Avenue
Minneapolis, MN 55401
(612) 375-1700

The shows continue to be combined. Events include book awards, education, a Moveable Feast Author Lunch, an Adult Author Dinner and a Children's Author Breakfast, a Quiz Bowl, a book signing and trade show exhibits. For more about the conference, visit The Heartland Fall Forum show site.
October 6 - 8, 2016
Mountains and Plains Independent Booksellers Association (MPIBA)
Renaissance Denver Hotel
3801 Quebec Street
Denver, Colorado 80207
(303) 399-7500

The Fall Discovery Show events include a gala opening reception, author meal events, and the publisher exhibit hall. For more about the conference, visit The MPIBA Fall Conference site.
October 15-17, 2016
New Atlantic Independent Booksellers Association (NAIBA)
 
Hyatt Regency Baltimore on the Inner Harbor
300 Light Street 
Baltimore, Maryland 
United States

NAIBA conference events generally include a preview supper; adult and children's author breakfasts, Publisher Marketplace exhibits, cocktail Reception; education day, and a Sunday Moveable Feast of books and authors. For more about the conference, visit The New Atlantic Independent Booksellers Association (NAIBA) show site.
October 21 - 22, 2016
Southern California Independent Booksellers Association (SCIBA)
Discover New Show
Beverly Garland Hotel
4222 Vineland Avenue
North Hollywood, CA 91602
(800) 238-3759
The events will include a welcome cocktail reception open to all attendees, a children's breakfast, SCIBA Book Awards, educational breakouts, a trade show (with no competing events), and a ticketed closing cocktail reception with selected authors.
For more information, contact SCIBA.

October 27 – 28, 2016
Northern California Independent Booksellers Association (NCIBA)
Fall Discovery Show
South San Francisco Conference Center
255 South Airport Boulevard
San Francisco, California 94080
(650) 877-8787

"Two days packed with education, authors, rep picks, publisher exhibits, and camaraderie." Events include Author's Keynote, Author Buzz Lunch, Children's Author Tea, Adult Author Brunch, and an Author Reception. 
More About Independent Bookselling