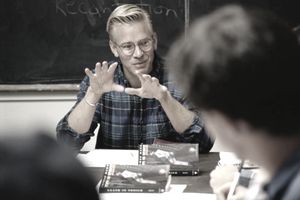 Has a college student asked you to write a letter of reference or recommendation on their behalf? Before you say yes, make sure you can accurately identify their winning personality traits and top skills in detail.
To effectively endorse this student, you should have an understanding of their short- and long-term goals and the kinds of jobs for which they are applying. Having this knowledge will help you to determine which of their hard and soft skills to highlight in your letter.
Then, write a detailed list of what you consider to be the student's top five traits and skills that make them a strong candidate for the position(s) they are seeking to fill.
Armed with this information, you'll be able to write a customized, positive, very effective letter for them.
What to Include in The Body of the Letter
Start by introducing yourself to the recipient by including your job title and your relationship to the candidate (i.e., their professor, employer, internship supervisor). From there, elaborate on the student's skills and personality traits which you identified on your list.
Use concrete examples to demonstrate how the student succeeded, and even excelled. Did they successfully lead a challenging group project? Serve as your teaching or research assistant? Incorporate this information and describe these leadership traits and other skillsets they embodied. Wrap up the letter by offering your time, availability, and contact information should the employer wish to discuss anything further about the student's capabilities.
Sample Job Recommendation Letter for College Student
Below is a sample reference letter to recommend a student for employment.
Dear Mr. Smith,
I have had the pleasure of supervising John Brown for the past three years while he worked in various capacities for the career office at Star College. Mr. Brown has performed superbly in every role he has had in our office, far exceeding expectations concerning productivity and flexibility.
I have worked with over 200 student employees over the course of my career and John stands out as one of the very best.
In fact, staff view him more as a professional colleague than a student employee, often assigning more complex and expansive tasks – tasks that we would ordinarily avoid entrusting to students. One such duty included the responsibility to maintain our recruiting database, a system so complicated and confusing, that several fulltime employees have struggled with it. John mastered it with little training.
He has a very well organized, detail-oriented approach to completing his tasks. His professionalism and keen intellect have allowed him to swiftly master projects while carefully moving through them to ensure an error-free outcome. We used to be pleasantly surprised when John finished a task ahead of time but have become accustomed to his effortless pace. Though, we still can't help but marvel at his speed, thoroughness, and efficiency.
With his strong interpersonal and communication skills, John was originally hired to work in reception. A fervent learner, he dove right into the extensive array of resources and services available to our clients and excelled at conveying that information to his peers.
Moreover, his positive attitude and air of calm confidence made him someone that students, alumni, and employers alike looked forward to seeing. I know, because many of them expressed that very sentiment to me.
Based on his impressive performance in that role, we hired him as our summer office assistant where he provided outstanding administrative support to the entire staff. John worked independently on office projects and even took the initiative to improve systems when it was warranted. We felt very confident that he could successfully manage our recruiting database, and he fervently accepted that position in the fall of his Sophomore year, where he continued to work until now. 
As an intelligent, versatile, and consistently positive employee, John deserves my highest recommendation. I am confident that he will excel as a project manager due to his natural ability to lead as well as his passion for learning and expanding.
Thank you for taking the time to read my endorsement of John Brown. Please do not hesitate to contact me with any questions about this exceptional young man.
Sincerely,
Jane Doe
Director, Career Office
518-580-5888
JaneDoe@college.edu