Reference Letter Examples
Templates for Crafting Effective Recommendations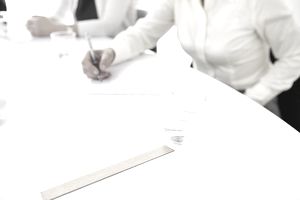 Have you been asked to write a reference for an individual or a business? Use these ideas and templates as a springboard to craft your own. Review academic recommendations, business reference letters, personal, and professional references and more below.
Reference Letters Examples
Business Reference Letters
You may be asked to write a reference for a business reference for a business associate, client, vendor, or other professional contact.
 Depending on the circumstances, you may be asked to recommend a business or professional service, or attest to the quality of the work supplied by a contractor.
Character Reference Letters
Character reference letters are most appropriate for applicants seeking their first job; those who have little formal work experience; and for people who can't obtain references from a previous job for a variety of reasons. This type of recommendation is much less formal and they can be written by a teacher, a coach or a mentor. For college and high school students, who've done odd jobs like babysitting and dog walking, consider asking your employers for a reference letter.
The letter should highlight your skills and attributes that the writer knows firsthand and state why they'd recommend you to a potential employer.
Important abilities for them to highlight include your: motivation, dedication, honesty, responsibility, diligence, helpfulness, loyalty and discipline. A character reference should be timely, relevant and concise.
Email Reference Letters
Employee Reference Letters
A solid employee reference letter consists of several parts: an introduction stating your position and relationship to the candidate; confirmation of his previous job title and salary; your assessment of the candidate's skills and qualities; and some specific examples of ways in which he excelled.
Academic Reference Letters
An academic recommendation letter highlights both scholarly strengths and personal character and will focus more. It paints an overall picture of the student's personal traits, performance, experience, strengths and professional promise. This letter can also be used to explain a weakness or issue with a student's record.
Online Contact Letter
Reference List Examples
Examples of lists of references to share with prospective employers.
References and Recommendations
Everything job seekers and employees need to know about references, including information on reference and recommendation letters, sample letters of recommendation and reference lists, how to ask for a reference, how to write a reference and how to use references,
Microsoft reference letter templates are available to use to write reference letters; you can find them as a free download for Microsoft Word users or available your Word program.