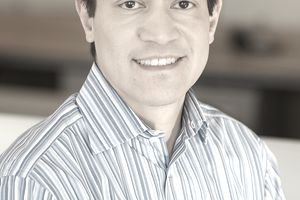 No surprise, contamination of recyclables is a big problem, and has come under the microscope due to responses from the marketplace such as Operation Green Fence. As part of its monthly educational initiative, Recyclebank recently shared some information on how the contamination of recyclable materials can happen and how it can be stopped. Emphasized were the importance of becoming familiar with what can and cannot be recycled in your city, and the importance of keeping recyclable materials dry and clean.
To dig a little deeper into the topic of contamination as it pertains to recycling, I caught up with Javier Flaim, CEO of Recyclebank. (To read my previous earlier interview with Javier Flaim, click here.)
1. What is your background and how does it relate to this issue?
My background is primarily around two core skills: innovation and consumer insights/behavior change – two areas I believe that are necessary dynamics needed to make a difference in the area of waste in America – and, related, around the issue of contamination.  Recycling rates in the U.S. have remained stubbornly low – hovering in the low-to-mid 30 percent range over the past decade – and while we are seeing improvements, we believe that at its core, education needs to be a central component of making a difference – together with community efforts, infrastructure improvements, and private sector involvement.  And these days, making sure that the right recyclables go into the right streams is even more critical – hence our need for continuing to evolve and innovate on how we can best educate and motivate residents to do their part to make a significant difference.
2. How does contamination throw a wrench into effective recycling? What happens when the wrong stuff is put into the bin? Is this worse than tossing it into the trash bin?
Waste is unfortunately complex in the U.S., and thus potentially confusing to many consumers.  Different communities accept different recyclables – and sometimes what's accepted is even different within communities (e.g., at a stadium vs. at an office building vs. at home.)  Moreover, new materials are being introduced every day, new infrastructure are brought online and updates to local rules/regulations continue to evolve – all making recycling potentially more and more complex.
So it's not surprising that there is "contamination" in the recycling stream – or more simply put, " placing wrong stuff" into the recycling bin.   
There are a number of problems that occur when there is contamination.  For example, it could tangle the sorting equipment at a recycling facility, also known as a Materials Recovery Facility (or MRF), and cause significant damage to the machinery.  A common and harmful contaminant is plastic bags – many if not most cities do not accept plastic bags at the curb as they are harmful to the recycling process and can damage the conveyor belts and sorters that are in-use at these facilities (though plastic bags can likely be dropped off at your local supermarket or grocery store to be recycled).  Other recycling contamination can also lead to unsafe conditions for workers.  And ultimately, contamination can diminish the quality and financial value of the recycled materials – hurting haulers, cities – and ultimately your pocket books.  
The best thing to do is check with your city or hauler on what is or isn't accepted at the curb or drop off centers.  A few simple rules may help: (1) keep it dry (2) don't put plastic bags in recycling stream and (3) keep it clean/rinse things out.
 One can use many of the resources available (city website, or resources like the Recyclebank website and Mobile APP) to learn more and search what is and isn't recyclable in your community.  
3. What can households do to ensure that they put the right stuff in bins?
There are a number of resources available to residents whether through their local hauler who manages their trash/recycling/compost curbside pick-ups or perhaps the municipality/city themselves, such as on the city website page.  It's always best to verify what is and isn't accepted in their community as recyclable.  There are a number of other resources, such as Recyclebank, that have articles, quizzes, slideshows, videos and other information to help residents and consumers get a better understanding of waste, recycling, contamination – and most importantly – why it matters to them, their community and the world at large.
4. How can communities better communicate and motivate households to put the right stuff in the recycling bin? How does Recyclebank fit into this mix?
We realize that recycling may not be top-of-mind for a number of residents – and other priorities can come in the way of someone's desire to research, learn and understand more about waste and recycling.  That's why we believe some consumers need that "nudge" to get them to pay extra attention to reducing their waste, recycling more, and recycling correctly.  Recyclebank leverages behavioral science best practices in order to maximize results, utilizing tools such as points & rewards, expert content, challenges, sweepstakes, alerts/notifications, multi-channel marketing initiatives, community-based marketing activities and other such tactics.  This is an area where one tactic won't suffice to truly make an impact – and we need to not only leverage these behavior change best practices – but also partner with cities, haulers, and private sector to truly affect change.