Receptionist Skills List With Examples
List of Receptionist Skills for Resumes, Cover Letters and Interviews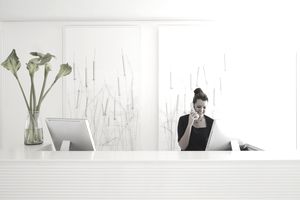 Receptionists are, by definition, the first person whom a visitor normally sees. The front entrance of an office complex or a medical facility will usually have a receptionist whose primary job is to direct visitors to the correct office within the facility. Individual offices may also have their own receptionist, or an office assistant or office manager may fulfill that role. Indeed, the three grade into each other to some extent.
Though sometimes overlooked, receptionists occupy a pivotal and trusted role in any company.
Here's information on the top skills employers seek when hiring receptionists, a list of skills for resumes, and cover letters, and phrases to use to describe a receptionist's job responsibilities.
How to use skills lists
You can use the names of these skills as keywords when you write your resume, tipping hiring supervisors off to the idea that you have exactly what they're looking for. Don't rely on them to figure out that your skills are applicable, tell them so directly.
Use these keywords the same way in your cover letter. Read the job description carefully, so you'll know which ones to focus on. While receptionist jobs are generally alike from one company to the next, there are differences, and hiring supervisors vary in their priorities
Examples of Receptionist Skills
Professionalism
As a receptionist, you're supposed to be the first person a client or other visitor sees upon arriving.
That means you are responsible for providing everyone's first impression of your employer. You must, therefore, embody your company's ideals, both in your behavior and in your appearance. Look the part. Greet everyone with a smile and a kind word and show that you are happy to help.
Communication Skills
Communication is very important since your primary job is to greet people, find out what they need, and help them get it.
Most of this communication will be verbal, either in person or by telephone. Besides interacting with visitors, you will also have to work closely with all the various people whom visitors come to see. If an important meeting falls through, you may have to explain why. If someone is having a bad day, you may bear the brunt of it. If an emergency develops in or in front of your place of business, you may be the first person who must respond to it and decide what to do. And always you will have to make sure information flows through you accurately and efficiently.
Technology Skills
Most obviously, you will be using a telephone system, probably one featuring multiple internal and external lines that you must keep operating smoothly. You'll also most likely need to be familiar with spreadsheets, word-processing software, your company's email and file-sharing systems, and possibly several social media platforms and your company's own software solutions. And there will be a copy machine. There is always a copy machine and the paper will always jam. Can you fix it?
Organization
You will be the nexus of a large part of your employer's internal communication. That means you'll not only have to keep yourself organized, you'll have to keep everyone else organized, too.
You may also be responsible for stocking and straightening reading materials or informational resources in your waiting area as well.
Multitasking Capability
You will seldom have only one thing to attend to. A new phone call may come in while you are still online with the first, so you must greet the new caller and then switch back. Meanwhile, three people might be waiting in person to talk to you. You will have to keep the needs of each person separate in your mind, not neglect anyone, and not get overwhelmed or frustrated. Some people enjoy the challenge. Some do not.
If you can multitask well, you can be an asset to your employer and your company, and you'll likely be successful as a receptionist.
Receptionist Skills List
Required skills for receptionist job will vary based on the job for which you're applying.
A - G
Accuracy
Administrative Support
Answering Questions
Appointment Scheduling
Assisting Others
Attention to Detail
Client Relations
Communication
Computer
Confirm Appointments
Correspondence
Customer Focus
Customer Service
Data Entry
Delivering Mail
Diplomacy
Directing Visitors
Email Correspondence
Event Planning
Filing
Forwarding Phone Calls
Friendly
Front Desk Operations
Greeting Visitors
H - M
Interpersonal
Issuing Security Passes
Mail
Managing Guest Books
Meetings
Message Taking
N - S
Office Duties
Office Equipment
Office Support
Organization
Phone Calls
Prioritization
Providing Information
Providing Reading Materials
Punctuality
Registering Guests
Reliability
Research
Screening and Directing Calls
Self-motivated
Switchboard
T - Z
Teamwork
Telephone
Time Management
Validating Parking Passes
Waiting Area Maintenance
Welcome Visitors
Word Processing
Written Communication
Phrases to Include in a Receptionist Resume
A resume for receptionist position contains a number of sections such as objective or profile, a summary of qualifications, areas of expertise, accomplishments, employment history, skills and education. The following phrases will help you write the skills listed below and the experience/employment section of a receptionist's resume.
You may use these statements either in skills, qualifications or strengths section of your resume.
• Highly skilled in greeting visitors and directing them to the right person or section
• Well-versed in managing guests book and issuing security passes
• Hands-on experience in giving information to visitors and answering their questions
• Proven record of answering/forwarding calls and taking messages
• Demonstrated ability to deal with phone and email inquiries
• Able to maintain an organized reception area
• Comprehensive knowledge of organizing reading material in the waiting area
The following job duties statements of the receptionist are given in past tense. If you want to write a description of your current reception job in your resume, you should change these phrases to present tense.
• Greeted, assisted and directed guests, workers, visitors and the general public
• Answered all incoming calls and handled caller's inquiries
• Provided office support services so as to ensure efficiency
• Responded to guests and public inquiries
• Received, directed and passed by telephone fax messages
• Directed employees, guests and the general public to the right staff member
• Maintained a sufficient record of office supplies
• Provided word-processing and clerical support
• Picked up and delivered the mail
• Maintained the common filing system and file all letters
• Coordinate the repair and maintenance of office supplies
• Provided administrative services to the office manager
Related Skills: Administrative / Secretarial Skills | Computer Skills | Customer Service Skills |  Office Manager Skills | Personal Assistant Skills | Office Assistant Skills