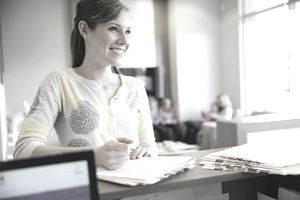 Are you looking for a job as a receptionist? Before you start applying for receptionist positions, take the time to put together a resume that highlights your previous experiences and the skills that will make you stand out from the other job applicants.
Here's an example of a resume for a receptionist, a receptionist cover letter sample, interview questions you'll be asked, and tips for getting your application noticed by hiring managers.
Receptionist Resume Example
Firstname Lastname
123 Moore Ave.
Albany, NY 12201
(111) (222-3333)
firstnamelastname@email.com
Work Experience
Receptionist/Administrative Assistant
Law Offices of Smith and Reilly
Colonie, NY
January 201X - Present
Schedule and attend meetings, take meeting minutes, disperse minutes via email to all partners.
Organize documents in preparation for court dates
First person of contact for clients.
Ordered and maintained office supplies for the firm.
Organized and replied to emails as needed.
Receptionist
Dental Office of Dr. Smith
Albany, NY
December 20XX – December – 20XX
Greeted patients when they arrived.
Scheduled appointments in person and over the phone.
Handled medical files (making notations, sorting, and filing).
Filed claims with dental insurance companies.
Handled incoming and outgoing mail and email.
Customer Service Representative
National Power and Gas Company
Albany, NY
September 20XX – December 20XX
Answered customer service calls.
Resolved customer problems and concerns.
Directed customers to appropriate resources.
Comfortably used computer-based customer service system.
Other Experience
Camp Happiness – Camp Counselor
Summer 199X
Latham High Gazette - Newspaper Editor
Junior and Senior Years of High School
Education
ABC College, Albany, NY
Bachelor of Arts
Major: Business Administration
Skills
Excellent MS Office skills.
Excellent grammar skills.
Experience answering calls on multi-line phones.
Comfortable using a variety of office equipment.
Ability to maintain an organized and tidy workspace.
Strong customer service skills.
Tips for Writing Your Resume
When compiling your resume, be sure to mention all your relevant skills, keeping in mind the type of office you will be working in. Write your resume specifically for the job for which you're applying.
For example, if you are applying for a position in a medical office, be sure to highlight your skills that will be utilized in that type of setting like the customer service, phone or filing skills you have. Here's how to match your skills to a job description.
Also, review a list of skills employers seek when hiring receptionists to give you ideas for your own resume.
How to Make the Best Impression
A receptionist position may be considered entry level, but it can also be the first step up the corporate ladder. A prospective employer will be drawn to a confident, self-assured person. Often you will be the first person their clients or patients will meet when walking into the office for the first time.
Be sure your first impression is the best it can be. Here's how to prepare for an interview.
Along with a standout resume, take the time to dress the part when you interview. If you get the job, you're going to be the frontline person and it's important to show the employer your professional image.
If you aren't sure about what to wear to your interview, check out these tips on how to dress for an interview.
If both your resume and your professional attire are on point, and you are prepared to answer likely questions, you will be successful in obtaining the position you are interviewing for.
What Else to Review
Receptionist Cover Letter Example
Receptionist Interview Questions
What to Wear to an Interview for an Office Job
Additional Information  
Resume Examples
Top 10 Resume Writing Tips
Career Summary Definition
How to Write a Resume Summary
Please Note: Samples are provided for guidance only. The provided information, including samples and examples, is not guaranteed for accuracy or legality. Letters and other correspondence should be edited to fit your personal situation.