Are You Stuck in a Rut Generating Real Estate Website Leads?
What makes today's consumer give up their contact information?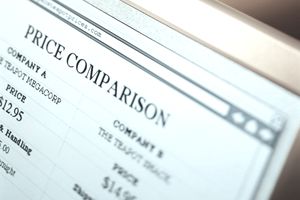 Why are only about 5% of real estate websites and blogs effective as business generators? What is it that these 5% do that the other 95% do not? You need only ask a group of real estate professionals what they think of their websites as tools to actually generate leads, and you'll have plenty of negative comments about the lack of business from their sites.
A great many of those who are complaining about ineffective websites are those who take the "billboard" approach.
They throw up a site that's like a billboard on the side of a highway. It tells the world how great they are, their top performer status, and little else. There may be a little about real estate in general, and the area, but it's mostly about them and their brokerage. Then they wait for a passerby to stop and take a deeper look. How many times have you stopped on a highway to read the fine print on a billboard?
Even the ones with a great deal of local information and real estate related articles are having a tough time actually getting business from their sites. They just can't seem to get the visitors to give up contact information and stick around to be courted for a future deal. It's not easy, but likely to garner poor results as long as they keep doing the same old things everyone else is doing:
Offering "Special Reports" on how to get your home ready to sell.
More "Special Reports" on the top ten mistakes buyers make.
Sign-in required to search the IDX.
And my personal favorite: "Sign My Guest Book."
Sorry, but the average real estate buyer or seller using the Internet has probably seen these same tactics on just about every site they've visited. It's old news, and if they've given up their information before to get it, you are not going to get them to do it again.
So, what will work?
First, you are not going to get anywhere unless your site or blog has a lot of useful content, most of it about the area and buying or selling real estate there. Though an About and Contact page is necessary, and they will visit it at some point, if your main page is about you and your company, they will bounce and leave the site.
So, let's assume that you have a lot of useful area information, as well as articles about real estate, area peculiarities in real estate, the transaction and negotiation process, building codes, etc. You're quick to realize that giving them all of this will still not get that contact information for follow-up. So, what is that "premium" offering that will get the job done?
If you buy in to the idea that you're trying to position yourself as the local area real estate expert, then it's your commentary and a lot of statistical information. I don't know what MLS software system you use, but most will provide a great deal of reporting for you that breaks out sales and market statistics in detail. This is where you can generate content that is truly "premium" in nature, getting them to give up their information in order to receive it.
Don't make all statistics an email delivery; give them some in your open content to illustrate that you are the place to come to keep up with market information and trends.
I give up valuable statistical information in the open part of posts on my blog, but reserve detailed reports for my Premium Content Subscribers.
An example would be taking the hotsheet report for the last two weeks and telling them how many properties sold in that time frame, plus possibly the average and median prices. Then, for my premium subscribers, a detailed report by property type and area with my comments on trends.
I also use restrictive MLS rules to my advantage. It is not allowed to advertise the listed properties of another broker without their consent. When I started offering special detailed reports about specific properties not my listings, the competition consulted the state association's attorney to see if they could stop me. The ruling was that, as long as my prospect/customer/client requested the information, I could serve them by providing it.
So, I use this to produce "Value Alerts" for properties I identify as such. I state that I can only provide this information to those who request it, thus they sign up for the alerts.
There are a number of ways to offer this content, but for regular websites or free blog services, you can just ask for an email address and then send it to them. If you're offering a lot of the information in various places on the site, you can create email addresses that will trigger automatic delivery from your email system.
If you're blogging with WordPress, you can password protect whole posts, providing the password to those who subscribe so that they can view those posts in the future. That worked well for me until I found the MemberWing plugin. It costs $79 for a license, but it's been well worth it to me. This plugin allows me to give up free and open statistical information at the top of a post, and have the premium content at the bottom hidden from view. There is a box announcing the content and offering free subscription to view it.
Some of this content is embedded reporting from the MLS, using Docstoc to easily get it into the blog post. Other is just more in-depth statistics broken out in price ranges or by area. Either way, I get a great response, with MemberWing handling their sign-up, setting them up in WordPress as a subscriber, and emailing them their login information.