Real Estate Document Sharing with Google Drive
Automated backups and easy sharing of documents with clients.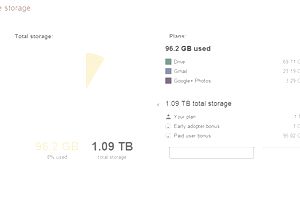 What is Google Drive?
Google Drive is a free service from Google that constantly monitors files on your hard drive and backs them up to the cloud.  I say free, and it is up to 15 GB of storage shared across Gmail, Google + photos, and Google Drive.  So, how much free space you have is going to vary based on how much space you're using for the other two applications.  If you use Gmail or other Google services, you should be able to check your current storage use and space remaining at the Google Storage page here.
Google Drive for Real Estate Transactions
To use Google Drive, you need to install the small application on your hard drive.  This creates a folder, and any files you drag into or save into that folder will automatically be copied to Google Drive in the cloud.  You need do nothing, and it's a comfortable feeling knowing that you have a cloud backup of important files.
Depending on how much storage you have or extra you want to pay for, you can put as much into this folder as you want.  I pay for 1 Terabyte of space because I placed my entire My Documents folder inside the Google Drive folder.  That includes my photos, and since I use an Android phone camera and have my photos automatically saved to Google +, I use a lot of space.  However, to have just about everything I do backed up this way, it's worth the $9.99/month to me for this storage.  There are less expensive multiple levels from which you can choose.
For real estate, you are already probably doing the basics by creating a transaction folder on your hard drive for each transaction.  You need only place that folder inside the Google Drive folder to get the backups done.  However, if you're like me, there are some files that I don't share with the client, such as notes or documents that are related to the transaction but not of interest or necessary to the client(s).
 Just create a sub-folder inside the main transaction folder, perhaps named Client Documents, and you place all that you want to share into that folder.
Now you need only go to the Google Drive folder on the Web and use the Share option to share the appropriate folder with your clients.  Sure, you can still email them documents as attachments, but it's great to be able to tell them that they'll have access to all documents at any time in the shared folder.  After a deal closes, I send an email to my clients and let them know that they should make sure that they download all documents from this folder unless they've already filed them in some way from emails or hand-delivery.
**Warning: VERY IMPORTANT - Change the default "Can Edit" button to "Can View."  They can still download the items.  However, if you let them have edit access, they can delete or in some other way move those files to their computer.  If they do, they'll disappear in your Google Drive Folder and then back up and disappear from your hard drive!!!**
At some point in the future you'll want to retire this folder to free up space, and you want them to know they should be getting any documents they want within a few months.
 Another reason I pay for 1 TB of storage space is that I want to keep transaction folders up for at least the number of years that my state requires me to keep paper files of transactions.  This way I have a paper file, a hard drive folder file, and an online backup file.  My state, New Mexico, now allows electronic document storage, no longer requiring paper files.
Real Estate Files from First Contact to Closing
We all wish that every showing led to a closing and commission, but we all know that isn't the case.  So, there are documents and email communications that may or may not end up being a prelude to a transaction.  Starting a folder for every customer who reaches the showing stage allows me to simply move that folder into my transaction folder later for a complete set of documents all in one place.