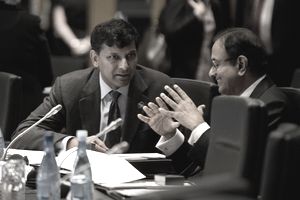 Raghuram Govind Rajan is the Vice-Chairman of the Bank for International Settlements. He was the Governor of the Reserve Bank of India, the equivalent to the Chairman of the U.S. Federal Reserve. He served from September 5, 2013, to September 4, 2016.
Rajan immediately raised the benchmark interest rate from 7.5% to 7.75%, and again in January 2014 to 8%. This addressed India's plummeting currency value and resultant inflation.
Rajan said that the United States exports its inflation to other countries. But lower oil prices in 2014 helped reduce the inflationary threat. As a result, Rajan lower interest rates in January 2015 to 7.75%. By July 2015, inflation was at a more reasonable 3.78%.  
Rajan resisted pressure to lower interest rates to assist economy-boosting initiatives from India's newly elected Prime Minister. Mr. Narendra Modi could have worsened inflation if he created too much demand in the economy before the country had time to build the infrastructure to produce it. Many worried that higher rates would worsen India's stagflation.  But Rajan warned that it was better to do so early on when it could still be a gradual process. (Source: "India's Rajan May Have to Increase Rates to Head Off Modi," The Wall Street Journal, June 4, 2014. "The economist who predicted the financial crisis just sounded another alarm—it would be wise to listen this time," Quartz, September 22, 2013.)
Rajan deregulated India's currency, the rupee, by easing banking regulations. He forced banks to write down bad loans. That freed up their capital to invest in healthy new ventures. He also opened up banking to more entrants, increasing competition. Two new banks were licensed as a result. He liberalized branch banking by launching a platform for banking on smartphones.
(Source: "Raghuram Rajan Signs Off as RBI Governor," Economic Times, September 4, 2016. Interview with Nitin Sharma, banking expert. "Into the Pressure Cooker," The Economist, September 7, 2013. "India Calls on Raghuram Rajan to Run Its Central Bank," The Guardian, August 6, 2013)
Rajan Criticized the Federal Reserve
India is one of five emerging market countries that suffered from plunging currency values in 2013 and 2014. Investors switched from these risky markets when the Federal Reserve started tapering its purchases of U.S. Treasuries. Many were worried that this reversal of Quantitative Easing would increase U.S. interest rates, making the dollar stronger. As a result, foreign currencies became less attractive and lost value. The speed with which this happened became a crisis that threatened global economic stability.
Rajan criticized the U.S. for completely disregarding the impact of tapering on other countries. "Emerging markets tried to support global growth by huge fiscal and monetary stimulus," he said. He warned that, if it continued, developed countries, "may not like the kinds of adjustments we will be forced to do down the line." He added that the G-20 pulled together during the crisis, but it's since disappeared.
 "We need better co-operation and unfortunately that has not been forthcoming so far," Rajan added. (Source: "Rajan Hits Out at Uncoordinated Global Policy," Financial Times, January 30, 2014)
Rajan Predicted the 2008 Financial Crisis
Rajan is one of the few economists who correctly warned central bankers about the 2008 financial crisis. In 2005, Dr. Rajan correctly pointed out how structural flaws in the economy would lead to a financial crisis. He presented a paper entitled "Has Financial Development Made the World Riskier?" at the annual Economic Policy Symposium of central bankers. This was at the height of the housing market bubble. That's when former Federal Reserve Chairman Alan Greenspan's expansive monetary policies could do no wrong. Rajan confronted the wisdom of the times and predicted crisis when no one wanted to hear it.
Rajan had planned to present at the Symposium an analysis of how derivatives and other financial innovations lowered risk. Like everyone else, he thought that banks shed risk by selling their mortgage-backed securities and collateralized debt obligations to investors on the secondary market.
Instead, he found that banks were holding onto these derivatives to boost their own profit margins. He warned that, if an unexpected "black swan" event occurred, banks' exposure to these derivatives could cause a crisis similar to the LTCM hedge fund crisis, and for similar reasons. Rajan pointed out, "The interbank market could freeze up, and one could well have a full-blown financial crisis."
The audience scoffed at his warnings, and then-Harvard University President and economist Lawrence Summers called Rajan a Luddite. However, Rajan's prediction is exactly what happened two years later. (Source: "Economist Raghuram Rajan Risked Reputation to Predict Credit Crisis," Economic Times, June 9, 2010.)
Rajan Predicts Future Crises
Dr. Rajan warns that the economic fault lines that created the financial crisis still threaten the world economy. This is despite new regulations, such as Dodd-Frank Wall Street Reform Act, and fiscal policies to reduce sovereign debt. He pointed out, "We risk going from bubble to bubble." These fault lines are:
The political response to income inequality in the U.S. - Many politicians continue to push easy credit so Americans can buy a better standard of living. Instead, they should focus on educating those without college degrees, who suffer more from unemployment. These now include the structurally unemployed and older workers.
Trade imbalances - China and other emerging markets rely on U.S. demand to fuel export-driven growth. They buy U.S. Treasuries, keeping interest rates low and protecting Americans from the consequences of too much debt.
Financial reward systems - Banks still pay and promote managers for generating above-average returns. These can only be obtained by taking on additional risks. The costs of those risks are spread throughout the economic system. They are ultimately born by taxpayers through government bailouts.
Rajan Oversaw Important Changes to the IMF
Rajan became the IMF Chief Economist at 40 (2003 - 2006).  At the time, it was seen as a big gamble for the IMF, since Rajan was a finance expert, not a classically trained economist. The Fund was criticized for its role in the 1997 Asian currency crisis, the Russian default which helped cause the LTCM hedge fund crisis, and the sovereign debt crises in Brazil and Argentina.
Economist Joseph Stiglitz, then chief economist of the World Bank, said the IMF stifled the economic growth of the countries it was trying to help by enforcing strict measures designed to cut back their debt burden. Unfortunately, these measures -- raising interest rates, removing controls on capital and cutting deficits -- impeded the very growth needed to fund debt repayment. 
Saving Capitalism from the Capitalists
Rajan's earlier book, Saving Capitalism from the Capitalists analyzed how free-market capitalism is subverted by lobbyists. They influence the government to deregulate so they can take on excessive risk in the name of global competitiveness. Or, they go the other way, and establish laws to protect their industries. Two examples of the latter are U.S. tariffs on imported steel, and subsidies to U.S. agribusiness that blocked the Doha free trade agreement.
Rajan's Early Career
Dr. Rajan received an electrical engineering degree from the Indian Institute of Technology in Delhi. He received an M.B.A. from the Indian Institute of Management in 1987. He earned a Ph.D in management from the Sloan School at MIT. He taught at Chicago's Booth School prior to, and following, his work at the IMF. Rajan's students nicknamed him "Frontier Function." That is an economic term that means the cutting edge of maximum value.
Rajan was a senior advisor to BDT Capital, Booz and Co, on the advisory board of Bank Itau-Unibanco's advisory board, and a director of the Chicago Council on Global Affairs. He was on the advisory councils for the Comptroller General of the United States and the FDIC.
In 2003, Rajan received the American Finance Association's first Fischer Black Prize for contributions to finance by an economist under 40. He was President of the Finance Association, as well as a member of the American Academy of Arts and Sciences. Rajan has been on the editorial boards of the American Economic Review and the Journal of Finance.
From 2006-2013, Rajan was the Eric J. Gleacher Distinguished Service Professor of Finance at the University of Chicago's Booth School of Business. From 2003-2006, he was the Chief Economist for the International Monetary Fund. His book, Fault Lines: How Hidden Cracks Still Threaten the World Economy, won the Financial Times/Goldman Sachs Business Book of the Year award in 2010. He also received the Infosys Prize for Social Science - Economics in 2011
Rajan was the Chief Economic Adviser to India's Ministry of Finance in 2013, and an informal economic adviser to the Prime Minister from 2008-2012.