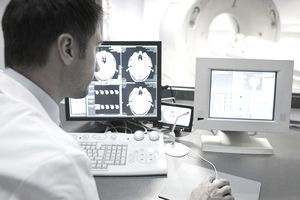 Job Description
A radiologic technologist uses diagnostic imaging equipment to help physicians diagnose illnesses and injuries. He or she may use x-ray equipment, computed tomography, magnetic resonance imaging or mammography to perform x rays, CT scans, MRIs or mammograms.
Radiologic technologists may specialize in one diagnostic imaging technology or in a few. They are often referred to by a title that reflects the technology in which they specialize.
For example, one who specializes in computed tomography is usually called a CT Technician and one whose specialty is magnetic resonance imaging is known as an MRI technician.​
Employment Facts
There were approximately 220,000 radiologic technologists employed in 2010. The majority of them worked in hospitals, but many others worked in doctors' offices, medical and diagnostic laboratories and outpatient facilities.
Jobs in this field are usually full-time positions. Since emergencies happen around the clock, those who are responsible for handling them must sometimes work odd hours, including weekends, evenings and holidays.
Radiologic technologists are at risk for contracting illnesses from their patients, but no more so than are other healthcare professionals. Exposure to radiation is another risk, but the protections that are in place decrease its likelihood.
Educational Requirements
If you want to become a radiologic technologist you must complete a formal training program in radiography.
Most people entering this occupation have earned an associate degree, but other options include a certificate or a bachelor's degree. Earning an associate's degree generally takes about two years. Programs consist of a combination of classroom and clinical training. Radiography students take courses in pathology, anatomy, radiation physics and protection, image evaluation and patient care.
Why Do You Need to Know About Educational Requirements?
Other Requirements
Most states require licensure for radiologic technologists. To become licensed you will usually need to have graduated from a program that has been accredited by the Joint Review Committee on Education in Radiologic Technology. You will probably have to take a written examination. To learn about your state's licensing requirements use this Licensed Occupation Tool. 
In order to succeed in this occupation, you will need to bring to it certain characteristics, also known as soft skills. Spending many hours on your feet requires a good deal of stamina. You should be detail oriented and hove strong interpersonal skills. In addition, you should be good in science and math.
Job Outlook
The US Bureau of Labor Statistics predicts that job growth for radiologic technologists will be faster than the average for all occupations through 2020. They say it will grow more quickly than most other occupations that, like it, also require an associate degree. Those certified in more than one diagnostic imaging procedure will have the best opportunities.
Why Do You Need to Know About Job Outlook?
Earnings
Radiologic technologists earned a median annual salary of $55,120 in 2011.
Median hourly earnings were $26.50.
Use the Salary Wizard at Salary.com to find out how much a radiologic technologist currently earns in your city.
A Day in a Radiologic Technologist And Technician's Life
On a typical day a radiologic technologist's tasks might include:
following physicians' orders regarding the areas of the body of which they need images
adjusting equipment
explaining procedures to patients
positioning patients
positioning equipment
following procedures that prevent unnecessary exposure to radiation to himself or herself as well as to the patient
keeping track of patients' records
Sources:
Bureau of Labor Statistics, US Department of Labor, Occupational Outlook Handbook, 2012-13 Edition, Radiologic Technologist.
Employment and Training Administration, US Department of Labor, O*NET Online, Radiologic Technologist.