Look Back at the 2017 HGTV Smart Home Sweepstakes
Win a Home, Cash, and a Mercedes Benz Car Totaling Over $1.5 Million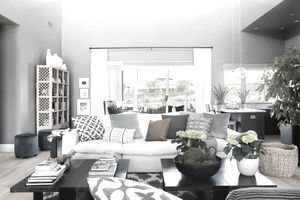 Note: This sweepstakes has expired, but you can find many sweepstakes with similar prizes on the House and Garden Sweepstakes List.
Description:
HGTV's Smart Home Sweepstakes is back for 2017! For the fifth year in a row, HGTV has built a house just brimming with technology to help its owners be safer, conserve energy, save money, and have more fun... and then they've given that home away. Well, this year, they're doing it again.
With a little bit of luck, you could be the winner of this amazing home.
If you don't want to take possession of this Scottsdale, Arizona house, you can also take a cash option making your prize worth over $849,000.
Are you ready to be the lucky winner of the 2017 Smart Home? Here's what you need to know to see if you're eligible and to maximize your odds of winning. Good luck!
This sweepstakes has expired.
Sweepstakes Links:
Sweepstakes Entry Form: http://www.hgtv.com/design/hgtv-smart-home/sweepstakes
Sweepstakes Rules: http://www.hgtv.com/design/hgtv-smart-home/sweepstakes/rules
Sweepstakes Homepage: http://www.hgtv.com/
Category:
Car Sweepstakes, Cash Sweepstakes, House & Garden Sweepstakes, Mail-in Sweepstakes, Mega Sweepstakes, Daily Sweepstakes
Eligibility:
USA, 21+
Start Date:
April 12, 2017
End Date:
June 02, 2017 at 5:00 p.m. ET
Entry Frequency:
2 x daily per person
Sweepstakes Prizes:
Grand Prize: The 2017 HGTV Smart Home built in Scottsdale, Arizona, including furnishings and artwork, $100,000 cash, and a 2017 Mercedes-Benz GLE 550e 4MATIC vehicle.
The winner can also choose a cash option of $670,000 instead of the home, and still receive the furnishings, the $100,000, and the vehicle. (ARV: $1,511,707 or $849,040)
Additional Comments:
Online, you can enter twice daily, once through the HGTV website and once through the DIY website. You can also use the alternate entry method to enter as often as you like by mail.
See Should I Enter Online Sweepstakes Online and by Mail for the pros and cons of maximizing your entries by mail.
The 2017 HGTV Smart Home winner will be chosen around June 13, 2017 by the sweepstakes administrator, Ritway. The winner will be notified between June 27th and July 12th, 2017.
The winner may also be required to attend a winner's weekend at the home scheduled for July 13-15, 2017.
Are you worried that you couldn't afford the taxes on such a huge prize? You don't need to be. See Could Taxes Spell the End of the Dream for HGTV Winners? for more information.