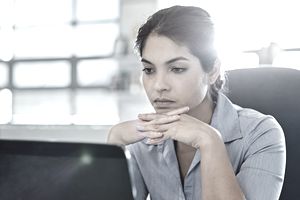 QuickBooks offers many versions designed to fit the accounting needs of virtually any small- or medium-sized business. All versions of QuickBooks feature tools for routine accounting that simplify tracking invoices, expenses, customers, bills and more. QuickBooks saves time by helping to ensure accurate accounting and by reducing—or eliminating altogether—the need to enter the same accounting data in different software applications.
QuickBooks Simple Start
Small business and sole proprietors.
Easily upgraded to other QuickBooks version as your business grows.
QuickBooks Online Edition
One of the biggest advantages of QuickBooks Online is its compatibility—it will work across all platforms because the software does not run on your desktop, laptop or mobile device, but is instead hosted and run on Intuit's servers. This offers extra security and protection from data loss and ensures you always have the latest version of the software.
Create estimates and invoices.
Track sales, payments, sales tax and inventory.
Share data with accountants.
Create over 100 customizable accounting reports.
Manage payroll.
Send invoices, reports, and estimates from QuickBooks Online.
Add options for online payroll, budgeting and class tracking and sales tools.
There are three subscription plans for QuickBooks Online available: Simple Start, Essentials, and Plus.
Each comes with a 30-day free trial period.
QuickBooks Pro Edition
QuickBooks Pro edition can create estimates and invoices; track sales, payments, sales tax and inventory; integrate with Microsoft Outlook and export data to Excel, among many other features.
Share data with accountants.
Create over 100 customizable accounting reports.
Manage payroll.
Track all your bills in one place with (QuickBooks Bill Tracker).
Step-by-step tutorials.
Supports up to three simultaneous users.
There is a 60-day money back guarantee with QuickBooks Pro.
QuickBooks Premier Edition
QuickBooks Premier offers all of the features of QuickBooks Pro and more.
Industry-specific reporting.
Business planning tools and sales and expense forecasting.
Create sales orders and track back orders.
Track costs for finished products and inventory.

Supports up to five simultaneous users.
QuickBooks Enterprise Solutions
QuickBooks Enterprise edition is the most powerful version of QuickBooks. It is designed for medium to large businesses, especially those that are expanding to multiple locations. It encompasses the features of the smaller editions, adds a few more large-scale features, and increases the number of simultaneous users to 30.
All of QuickBooks Premier features, with enhancements to some of those features.
Support for up to 30 simultaneous users.
Tracking for up to 100,000 inventory items, customers or vendors.
Manage fixed assets and employees.
True Commerce's EDI Transaction Manager software now included.
Store QuickBooks Enterprise Solutions data on Linux servers.
More Accounting Software Resources
Unlock the full power and potential of your accounting and financial software, including QuickBooks software options, or find a financial software solution that is right for your business, whether you're an independent contractor or sole proprietor, partnership, small business or a large enterprise.