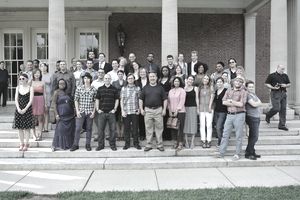 Q: How does the Fairleigh Dickinson University MFA low-residency program work? Where is most of the writing done?
Rene Steinke: Graduate students and faculty attend two 10-day residencies a year, one in January at a historic English abbey in Oxfordshire, England, and one in August at our campus in Madison, New Jersey, which is a former Vanderbilt estate. The residencies are intensive. In addition to student-mentor meetings and small workshops, the schedule includes generative writing workshops, lectures, readings, meetings with literary agents and editors, visits to local literary sites, presentations by visiting writers in each of the genres (fiction, poetry, creative nonfiction, writing for young adults, and literary translation), and faculty-student meals and social events.
  In the months between the residencies, students develop and revise their writing, with individualized instruction from their mentors, and students participate in online workshops. 
Q: What makes the Fairleigh Dickinson University MFA different from other low-residency programs? What unique programs are offered, and what genres are taught?
Rene Steinke: The opportunity to study in England, with an introduction to writers and publishing professionals from the UK, is unique. 
Additionally, no other low-residency has such a close connection to an international literary journal like The Literary Review, which has a 60-year history. All students have the chance to do editorial work for the journal, and The Literary Review also offers selective paid graduate assistantships.  
Fairleigh Dickinson's MFA program is one of the only low-residency programs in the country to offer concentrations in both Literary Translation and Writing for Young Adults, in addition to the concentrations in Fiction, Poetry, and Creative Nonfiction.
We offer a 2-year MFA degree in a single concentration, and also a 3-year MFA degree in two concentrations. At the residencies, we take an interdisciplinary approach, and students have the option to explore genres other than their main concentration.
Also, although this is difficult to quantify, it seems to me that there's a particularly strong community of writers among our faculty, students, and alumni.
Q: What advice do you have for writers who are interested in applying to the Fairleigh Dickinson University MFA? 
Rene Steinke: Send us your strongest writing sample. Apply for all of the funding opportunities. If you are selected to be a student in the MFA program, be prepared for a rigorous and fascinating journey, and the chance to devote yourself to your writing.
______
Click here to apply!
For faculty bios, click here!
For financial aid, click here!
______
René Steinke's most recent novel, Friendswood (Riverhead), was named one of National Public Radio's Great Reads of 2014 and was shortlisted for the St. Francis Literary Prize. Her previous novel, Holy Skirts, an imaginative retelling of the life of the artist and provocateur, Baroness Elsa von Freytag-Loringhoven, was a Finalist for the National Book Award. Her first novel is The Fires. Her essays and articles have appeared in The New York Times, Vogue, O Magazine, Salon, Bookforum, and in anthologies. She is the former Editor of The Literary Review, where she remains Editor-at-Large. She has taught at the New School and at Columbia University, and she is currently the Director of the MFA program in Creative Writing at Fairleigh Dickinson University. She lives in Brooklyn.