Pros and Cons of the PLUS Loan
They Help Pay for College, But Add to Parents' Debt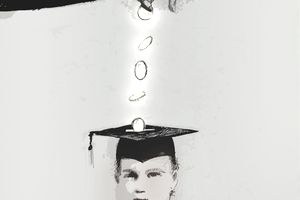 The college application and financial aid season has already started. With the newer "Early FAFSA," students and parents might be making decisions much earlier than usual about how they will pay for college. One element that usually factors into the equation is student loans. There are both federal and private student loans where the student is the borrower, but there is also a federal program where the parent is the borrower.
The Parent Loan for Undergraduate Students (PLUS) is available to graduate or professional students and parents of dependent undergraduate students to help pay for college education expenses not covered by other financial aid.
Although these can be a very helpful form of financial aid, there are some things parents will need to take into consideration before signing on the dotted line:
Their individual financial status: In some circumstances, parents may still be paying off their own student loans, while others are trying to save for their upcoming retirement. Absent any agreement with their student about financial responsibility after graduation, parents could be stuck with a long-term debt that might affect their own standard of living.
Limited repayment options: While standard federal student loans have a variety of repayment options, PLUS loans do not. The lack of loan limits coupled with limited access to income-driven repayment plans can put a pinch on the family's budget.
Just because you can it doesn't mean you should: Some families who are eligible for an Expected Family Contribution of zero may still find that they have access to PLUS loans, in spite of a rather shaky credit history. You will be responsible for assessing your own financial situation to determine if you really have the ability to repay these loans. Even a seemingly small amount of money borrowed now can lead to surprisingly large monthly payments later.
You are responsible: You might actually talk to your student and make an agreement that he or she will repay any PLUS loans upon graduation. If the student doesn't live up to their end of the bargain, though, you are the one who will still be responsible for repayment. These loans cannot be transferred to the student, and remain as part of your credit history. A student's diminished payment capability will not even affect payment of the loan because the lender will look at the parents' financial situation.
If you understand the potential negatives, the first step toward taking out a PLUS loan is to complete the FAFSA. You may also be asked to request a Direct PLUS Loan at StudentLoans.gov. Parents cannot have any adverse credit history, although they might still be able to qualify with another endorser and completion of PLUS credit counseling. They must also be the biological, adoptive or, in some cases, step-parent of the dependent undergraduate student. The maximum PLUS loan amount is the cost of attendance minus any other financial aid the student receives. You have the opportunity to borrow the maximum amount available, but should really try not to take more than you can realistically expect to repay since you will be the one signing the Master Promissory Note.
Carefully study the financial aid award letters you receive to determine how much of each package is in grants and scholarships that do not need to be repaid. Another portion could consist of a federal work-study job, and the rest might be in loans. Learn the difference between student loans and parent loans before taking any further steps. If you do have an adverse credit history and are unable to get a PLUS loan, your child may still be eligible for additional unsubsidized student loans.
There are many decisions which need to be made along the way when it comes to putting together a reasonable financial aid plan. That's why it is important to give yourself as much time as possible to think about the options. Filing the FAFSA as soon as possible also gives you the best chance at being eligible for the maximum amount of financial aid, since some programs are only available on a first-come, first-served basis.