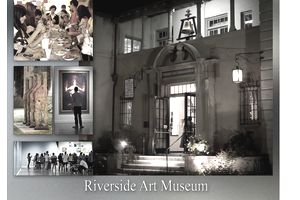 Established:
The Riverside Art Museum in Riverside, California was established in 1967.
The Museum has a permanent collection of approximately 1,500 objects.
History:
The Riverside Art Museum was established in the 1950s when a group of artists formed the Riverside Art Association. They leased an abandoned dog pound to house the Riverside Art Center.
As the demand for more space for studio classes and exhibitions grew, the Association purchased the YWCA building (designed in 1929 by architect Julia Morgan) on July 5, 1967.
In 1982, the building became a Historic Landmark by the City of Riverside.
In 1991, the Museum underwent an extensive upgrade including a state-of-the-art climate control system and increased exhibition and storage space. During the 2000s, more renovations and repairs continued.
Mission:
The Museum's mission, according to their website, is:
"The Riverside Art Museum strives to integrate art into the lives of people in a way that engages, inspires, and builds community by presenting thought-provoking exhibits and providing quality art classes that instill a lifelong love of the arts."
Location:
The Riverside Art Museum is located in the historic Mission Inn district of downtown Riverside at 3425 Mission Inn Avenue, on the corner of Mission Inn Avenue and Lime Street, in Riverside, California.
Please refer to the museum's website for directions and further information.
Museum's Conservation Department:
The Riverside Art Museum has a permanent collection, so it requires the services of an art conservator from time to time, in order to preserve and restore artworks.
To learn more about the field of art conservation, please see interviews with conservators.
Famed Artworks in Collection:
The Riverside Art Museum's permanent collection is notable for its "print works (lithographs, serigraphs, intaglio, monotype, relief, photographs, and posters), mixed media works, and paintings and watercolors of California landscapes." 
The collection includes work by artists such as Millard Sheets, Toulouse-Lautrec, and Alberto Giacometti. Artists who have exhibited at the Museum include Robert Williams, Takashi Murakami, Kathe Kollwitz, and Corita Kent.
Noteworthy Facts:
Submissions by Artists and Curators
According to the website:  "Guest curators may propose solo artist or group exhibitions that fall under a thematic umbrella that holds a concept of significance to the museum's focus. Exhibitions representing a diversity of gender, ethnicities, and backgrounds are encouraged."
Please refer to the Museum's website for further details on how to apply and what materials are required for submission.
Employment Information:
The Museum does not post employment opportunities on its website. However, the Museum posts docent and volunteer listings in the various departments such as administrative, curatorial, collections, exhibitions, marketing, sales, and security. 
How to Apply for a Job:
Applicants can apply to volunteer positions in which they qualify by submitting their applications via the Museum's online form.
Museum's Contact Info:
Riverside Art Museum, 3425 Mission Inn Ave., Riverside, CA, 92501.
Riverside Art Museum's website
Museum Hours:
Monday closed
Tuesday 10:00 am to 4:00 pm
Wednesday 10:00 am to 4:00 pm
Thursday 10:00 am to 4:00 pm
Friday 10:00 am to 4:00 pm
Saturday 10:00 am to 4:00 pm
Sunday 12:00 pm to 4:00 pm
Closed holidays