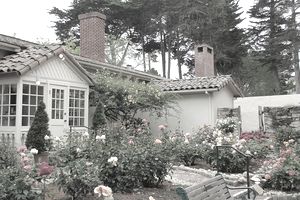 Established:
The Monterey Museum of Art in Monterey, California was established in 1959 and has two locations: the main site at Pacific Street and the satellite space at La Mirada.
The Museum's permanent collection of over 14,000 objects focuses on American art, specifically California painting, photography and contemporary art.
History:
The Monterey Museum of Art in Monterey, California, was established in 1959.
The Museum's collection of early California paintings and works on paper help show how the Monterey Peninsula was an inspiration for artists and how it became an influential art colony.
From 1875 until 1945, many artists came to paint the natural environment in both seascapes and landscapes. Artists such as Jules Tavernier, Raymond Dabb Yelland and the Impressionists E. Charlton Fortune and Evelyn McCormick created notable works which are in the Museum's collection.
Later on, during the 1920s and 1930s, in what is called California Modernism, artists such as Gottardo Piazzoni, Francis McComas and Margaret Bruton created signature works. The Museum also holds significant works by the renowned California landscape painters  William F. Ritschel and Armin Hansen.
Mission:
According to the Museum's website:
"The Monterey Museum of Art expands a passion for the visual arts and inspires appreciation of California art—past, present, and future."
Location:
The Monterey Museum of Art has two locations: the main location is at 559 Pacific Street in a 3-story building (with art reference library, a gift shop, and a sculpture park) across from the historic Colton Hall in Old Monterey; and a smaller site at La Mirada, which is a refurbished stone adobe home surrounded by a rose garden.
Please refer to the Museum's website for further directions and information.
Museum's Conservation Department:
The Monterey Museum of Art in Monterey, California has a permanent collection, so from time to time may require the services of an art conservator in order to preserve the works for future generations.
To learn more about the field of art conservation, restoration and preservation, please read interviews with art conservators.
Famed Artworks in Collection:
The Museum's collection includes artworks by artists such as Armin Hansen, Joan Miró, Henri Matisse and Pablo Picasso.
The Museum's collection focuses on several key areas:
Early California Painting and American Art (1875-1945)
Contemporary Art (1945–present)
Photography
Asian Art
Noteworthy Facts:
Employment Information:
The Museum regularly posts job listings on its website in the various departments such as administrative, collections,  curatorial, education, library, marketing and public relations, sales, security, etc. when jobs become available.
How to Apply for a Job:
To apply for a position at the Museum, applicants can submit their cover letters and resumes via email.
Museum's Contact Info:
Monterey Museum of Art–Pacific Street, 559 Pacific Street, Monterey, CA 93940.
Tel: 831.372.5477.
Monterey Museum of Art–La Mirada, 720 Via Mirada, Monterey, CA 93940. Tel: 831.372.3689
The Monterey Museum of Art's website
Museum Hours:
Monday 11:00 am to 5:00 pm
Tuesday closed
Wednesday closed
Thursday 11:00 am to 5:00 pm
Friday 11:00 am to 5:00 pm
Saturday 11:00 am to 5:00 pm
Sunday 11:00 am to 5:00 pm
Closed holidays