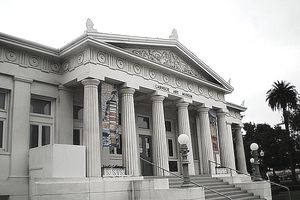 Established:
The Carnegie Art Museum in Oxnard, California officially opened to the public as an art museum in 1986.
The Museum has a permanent collection of over 1,500 objects and includes mainly two-dimensional works of art such as paintings, drawings, photographs, works on paper, and prints by California artists of the 20th century such as Millard Sheets and Arthur Beaumont.
History:
The Carnegie Art Museum was established in 1986 and is owned by the City of Oxnard.
However, the building which houses the Museum has a longer history.
The Museum's Neo-Classical building was built in 1907 as the Oxnard Public Library. Originally built (and funded by Andrew Carnegie) as a Carnegie public library, the building which looks like a Greek temple with Doric columns, remained a library until 1963, and then became the Carnegie Cultural Arts Center opening on August 16, 1980.
The Museum's permanent collection began in the 1920s when local Oxnard residents collected art by California landscape artists, in order to build up a city art museum collection, with the desire of opening a museum in the future.
Mission:
The Carnegie Art Museum acquires artwork and hosts exhibitions of art by artists of national or international stature, who have a connection with California.
Location:
The Carnegie Art Museum is located at 424 South C Street in Downtown Oxnard between Fourth and Fifth Streets in Oxnard, California.
Please refer to the museum's website for directions and further information.
Museum's Conservation Department:
The Carnegie Art Museum has a permanent collection, so it does require the services of an art conservator in order to preserve and restore artworks for future generations.
To learn more about the field of art conservation, please see interviews with conservators.
Framed Artworks in Collection:
The Carnegie Art Museum has a permanent collection of over 1,500 works, which are mainly paintings, photographs and works of paper. The collection also has some sculptures and other artifacts.
The Museum's collection includes landscape paintings by California impressionists and by California Latino artists including Frank Romero, Gronk, and John Valdez.
The Museum has exhibited art by artists of international renown such as Edward Ruscha and David Hockney, and by Southern California artists such as Joyce Trieman.
Noteworthy Facts:
Employment Information:
The Museum does not post employment opportunities on its website, due to the limited turnover of the museum staff. However, the Museum posts volunteer listings in the various departments such as administrative, curatorial, collections, exhibitions, marketing, sales, and security. 
How to Apply for a Job:
Applicants can apply to volunteer positions in which they qualify by submitting their applications via the Museum's online form.
Sometimes, in general, a volunteer position can lead to a permanent position, as museums are willing to hire people with whom they are familiar with. Working as a volunteer can help you 'paint a favorable picture of yourself', which may lead to a job.
Museum's Contact Info:
Carnegie Art Museum, 424 South C Street, Oxnard CA 93030. Tel: 805.385.8158.
Museum Hours:
Monday closed
Tuesday closed
Wednesday closed
Thursday 10:00 am to 5:00 pm
Friday 10:00 am to 5:00 pm
Saturday 10:00 am to 5:00 pm
Sunday 1:00 pm to 5:00 pm
Closed holidays