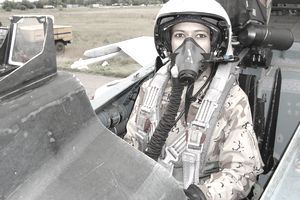 Ever wonder what it's like to pull 6 G's in an F-16 fighter jet? Suman Sharma did. But rather than shy away from the actual experience, Suman intrepidly completed the training and medical screening to experience the thrill first-hand. It's just the way she approaches her work - head on and unwavering.
"Gosh, it was a heavenly out of the world feeling. As we took off from the ground in the F-16, split of a second, I knew something happened, but all those years of my yoga training, breathing, jazz dancing, controlled breathing taught by my parents, fitness drilled into me by my brother, one night before hydration of the body etc; all that helped."
I'll have to take her word for it. I get sick in the barber's chair. Suman is a defense journalist in India, a country whose politics and cultural cross-winds can be as difficult to navigate as the roaring forties, but Suman is an expert.
She grew up in a military family. Her father was a naval officer and her brother is active-duty in the army. I had the unique opportunity to chat with Suman recently. We spoke about everything from Indian politics and social issues to journalism, business and the expanding role of women in leadership roles in every aspect of life in a country that remains so mysterious to westerners. I hope I do her justice. She is nothing if not interesting.
Suman has flown in F-16's, climbed a 16,000-foot glacier with the army, instructed at the Indian Military Academy, protested in support of rape victims and she was recently the first woman to fly a sortie in the infamous Russian MIG-35 fighter, pulling 7 Gs.
So how does flying at Mach-1 compare to her work as a defense correspondent? "Breaking stories, investigative journalism, all that gives me a high, besides my profession also gave me an opportunity to realize my love for fighter jets. I get to test these fantastic machines, which is impossible for a civilian to do.
But the real high remains breaking great stories and seeing them being followed, then action being taken on them by my Government, which helps the nation at large."
Suman has written for The Sunday Guardian (weekly newspaper), before that DNA Newspaper, Indian Express, Open magazine, Mail Today, and ANI-TV. After losing her father 7 months ago, she worked freelance to have to flexibility to help her mother and the rest of the family. She's covered it all, including procurement, technical commentary, and military affairs. She's part of the action. Even the 2008 terror attacks in Mumbai did not deter her. "I don't really feel frightened as its all part of the job. If I am given an assignment I just go ahead."
I asked Suman if there was ever reluctance on the part of high-ranking defense officials to speak frankly with a woman, but she demurred. "The sources I have are all comfortable talking to me. Yes sometimes while talking to new people, it takes them time to develop trust. I don't think gender is an obstacle. Journalism has nothing to do with gender. As it is all those who write on defense, strategic affairs, are under the scanner by Intelligence agencies, so nothing new for me. I take it as part of the job."
India remains an enigma for many in the west in general and in the US in particular. But lately , we've been exposed to a dark side of India, the patriarchal side, the one that appears to condone gang rape and honor killings. We've discussed the issues in this series previously with Rita Banerji and the 50 Million Missing Campaign. So what does Suman have to say about it? I specifically asked Suman about a comment made at a press conference by Indian actress Mallika Sherawat, in which she said India was a regressive state for women. e.g. India has 40% of world's child brides according to an article in Times of India.
"Impression of India in the West/US is based on what the West is exposed to and gets to see and hear. See we are an old civilization. Thousands of years old, with a rich history and tradition and culture, where there were defined roles for women.
But we have women like warrior queens - Jhansi's Laxmi Bai, etc., Noorjehan-who ruled by proxy....later Mrs. Indira Gandhi....all these strong women have shaped India's destiny and image.
Even now we have 60% of our population which is rural and lack of opportunities is what prevents most girls. But they are strong in their own spheres, in their own way, besides now with so much exposure, every girl is given a chance to educate herself and in almost every profession they have an almost equal participation.
I, as an empowered woman, I come from a village in western UP, and recently I took up the cases of two sisters married to two brothers - both girls were being physically assaulted and were victims of domestic violence, and the local cops were not filing their complaint, so I took up their case and made sure it was done. Women like me spread awareness about rights and I think it's just a matter of time that women will be at par, but it's incorrect to call India regressive."
Not one to focus on the negative, Suman has proven herself in a variety of domains to possess a physical as well as mental resilience, but she also has an ability to maintain a light heart, to see the upside, to project positive energy - "It's very unfortunate about all those rapes, the numbers on domestic violence etc....and trust me it's not just the illiterate village folk who indulge in it but also the educated elite. It's human nature to feel insecure, but that doesn't stop a woman from pursuing her dreams. Maybe more opportunities, better law and order, better connectivity, etc. should all do the trick, but if a woman is meritorious, nothing stops her."
Nothing.
This is why we publish these profiles. Women (strong women) like Rita Banerji and Suman Sharma, are influencers. They are the roots and the trunk of the tree, nourishing, grounded, strong - bending with the winds but rarely breaking. They are the characters Isabel Allende  needs for her stories. "I need mavericks, dissidents, adventurers, outsiders, and rebels; who ask questions, bend the rules and take risks."
Suman is the recipient of countless awards for journalism. She is currently focused on the elections and a major aerospace contract. "I am closely tracking the MMRCA story-- which is the single largest defense deal in the world for 126 medium multi-role combat aircraft for the Indian air force, the deal is not yet sealed, plus India will have general elections next month. There will be a change in government, which means a change in policies, so it's a crucial time for the country."
Suman is continually seeking internships and collaborative exchanges to further her career and expand the breadth of her influence.
Follow this Warrior Queen on Twitter (if you dare) @SumanSharma