Profile of Kay Meredith
Biography of One of Classical Dressage's Greatest Influences On The Sport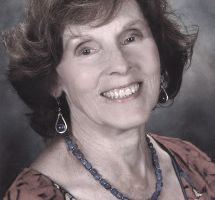 Kay was born in Wood County, West Virginia, close to the Ohio River and across the river from Marietta, Ohio. But this was miles and centuries away from the sport that mesmerized her even as a child. After seeing the movie "White Stallions of Vienna," the dream of becoming a part of that world seemed about as possible as flying to the moon, which at that time was still just a dream for NASA.
Even so, while waiting for 'life' to unfold, riding over the rough foothills of the Appalachians, nearly getting beheaded when racing down a ravine into a cable attached to a nearby gas well and saved only by slipping to the side of the horse and grabbing hold of the saddle horn, a spirit of determination began to grow.
Not to mention an attitude of survival when faced with the possibility of injury and dismemberment!
At that time taking her horse to the County Fair; competing in gymkhana-like gatherings where competing in the egg and spoon class was important in developing a steady hand and seat (since the eggs were RAW- not cooked) and who wanted egg all over one's saddle? Still, the dream never faded and running hell-bent for leather over this unreliable terrain helped to ingrain a sense of trust in the horse, especially in tense situations. At that time her dependable western saddle provided the confidence that would later come in handy when riding huge, big moving horses far away from home.
Later, when her father began to breed Arabian horses, he built a crude but safe horse trailer and Kay, along with her two younger sisters, began to travel over into Ohio to show in recognized competitions. These shows became one of the stepping stones that would launch Kay into a world filled with marvelous opportunities; a world she would both dramatically change and in which she would quickly distinguish herself.
"It couldn't get any better than this," she muses, remembering times spent riding with friends all around Wood County, competing on Arabians and Quarter Horses. "What better way for a girl to grow up when she knows absolutely that her life will be with horses?"
In the process of 'growing up;' finishing high school; attending WV University for a time: the mistake was majoring in home economics, she says laughing -- only time would put her under the right instructors and directions to develop in the sport that would eventually become her obsession: Dressage.
With ancient roots, dressage is actually the science of mounted warfare when armored knights were the dominant war machines - before the time when gunpowder finally became reliable, meaning that the ammunition was more likely to hit the opponent rather than the man using the gun.
In those days, the American Dressage Institute, located in the northeast, was one of the first organizations to promote dressage on a serious level. This was conducted close to Skidmore College as well as the first race track in the U.S close to Saratoga Springs, NY. At one of those sessions, Kay met Ernst Bachinger, a rider and trainer from the prestigious Spanish Riding School in Vienna, Austria. Later he would come to Meredith Manor School of Horsemanship, a school founded by Kay and her then-husband Ron.
In the early 1970s, Kay was invited to Potomac Horse Center to attend a three-week clinic with Col. Bengt Ljungquist, a renowned trainer from Sweden who later led the U.S. Dressage Team to a gold medal at the 1975 Pan-Am Games and a bronze medal at the 1976 Olympics in Canada. This was a familiar school where she had often gone for lessons to learn more about basic riding, including some jumping as well as flat work.
Meeting the colonel was a 'life-changer' for Kay.
She spent the following years working with Col. Ljungquist (along with many other riders who were active in dressage at the time). "Training with him was a great learning experience," explained Kay who said it formed her early attitudes about the work and dedication required to be successful in this division of riding. "He was a demanding teacher and set the level of performance high for all of his students."
Kay reminisced, "I can still hear him say, using many of his metaphors from his career in the Swedish Cavalry: 'I don't care if the gunshot last week- I expect it to shoot TODAY!' All of us understood what that meant: excuses don't count- only results."
Kay trained with Col. Ljungquist for eight years, learning and trying to master the difficult art of classical dressage.
Ljungquist would remain a close and trusted mentor until his untimely passing in 1979. "The United States lost an irreplaceable coach and it took some years to get us back on our feet."
After the Colonel's passing Ernst Bachinger made several trips to Meredith Manor. His teaching was invaluable and coincided with what she had learned from Col. Ljungquist. For his part, Ernst was fascinated with riding western horses, thus, in the evenings he spent time riding cutting horses. Dressed in all the pertinent western attire he had no problem staying with the cutting horses. "We even took a movie of him riding an Appaloosa, dressed in chaps, boots, etc," Kay remembered fondly. At that time, Kay made several short trips to Vienna where she was able to take lessons from him in the old royal park, learning and seeing so much; watching the horses being worked between the posts; watching the daily programs; watching the morning turnout. Kay recalls that her eyes burned from so much 'watching' and says her mind was often a bit muddled by so much information.
Later she had the great opportunity to spend much time studying with Herr Wilfried Schmidt near Offenbach in Germany. Here, she got to compete as an American in the German, Holland, and Italy competitions. One especially great competition was in Aachen, Germany. "Later we went to Rome as well as many other places which I remember but can't spell the names of the cities!" She treasures those ribbons and medals to this day.
Through the years she has trained with the various coaches of USET but says that working with George Theodorescu in Venezuela and Canada were some of the most memorable times.
From the 1980s through 2001, Kay made many trips back to Europe to continually 'update' her education. In 1983, alongside Hilda Gurney and Carole Grant, they won the team gold in the Pan Am Games in Venezuela.
In the 1980s, Kay relocated to North Carolina where she resides today. During this time, and to the present she continues to teach, judge, conduct seminars and trains young riders to the degree that they can go on to be good professionals. One such rider is Rebecca Nelles, who earned her USEF bronze, silver and gold medals and is now the professional at Charlottes Creek Farm in West Virginia. She continues to devote her time to riders who are willing to remember: no excuses -- only results.
"It was great through the years to see dressage go from where it was looked down upon at one time to where reiners and even hunter riders came to us to do flat work correctly and improve their own performance. Now we see dressage as a sport that is really moving and shaking!" expressed Kay.
Through the years Kay's horses Domino, Engarde, and Encore in particular, since they were her international soul mates, hold a particular place in her heart. Domino, with the huge walk, who loved little children with treats and often threw a huge buck into a performance, was her first international horse. He'd won second place in a bucking contest in Sweden so it took a while for Kay and horse to 'get on the same page' so to speak. They went on to compete in Germany, Italy, and Holland among other places.
Encore, the gentle (standing at 16.1 hands was her smallest horse) was delicate and tentative, taking his courage from his rider. He was her mount for the Pan Am Games in Venezuela as well as the World Championships in Canada. He competed along with the Domino and Engarde in Europe. She will always remember him for needing courage from his rider. She sold him to Susie Wiedman, another student who accompanied her in all of these 'off-shore' trips and Susie gained fantastic FEI experience on this wonderful, thoughtful horse.
Engarde, with the huge movement and the ability to piaffe-passage anywhere she might want it in a freestyle and do changes to one on 15-meter circles, was a tremendous challenge to 'sit still and do no damage' while he showed his incredible talent. He was sold to Finland so he could compete for that country in the 1988 Olympics in Seoul, Korea. As proud as she was of his accomplishments, her heart was sad for needing to make the sale. That was last time she ever sold one of her horses.
Main Event, her gorgeous gray horse from Sweden and with whom she completed her competitive career, was another huge mover and shaker. His ability to Pan Am Games in Venezuela in any figure was phenomenal. He now lives with Chris Roseberry, one of her wonderful West Virginia friends, near Huntington, WV.
Presently Kay spends her time judging, teaching, and doing clinics/seminars. "It's a great way to see the country and work with my colleagues," she says with a laugh. "And it is truly a beautiful country with lots of wonderful people living in it."
Still a powerhouse, Kay continues to be actively involved in the equestrian world. She is currently a USEF senior judge. She loves to judge horse shows, and recently judged a horse show at St. Andrews University, but her desire to share her knowledge and wisdom about the sport of dressage with all levels of riders who are hardworking, motivated athletes remains strong.
Eager to continue sharing her passion with others, she has a few private students that she enjoys coaching and finds very rewarding. I can only imagine being one of those few fortunate students she is passing on her lifelong knowledge to. Students, like Rebecca Nelles, who Kay coached to bronze, silver, and gold USDF medals.
She loves spending time with her grandchildren and family, who also live in Raleigh North Carolina. She says getting to see them all the time is wonderful and watching her grandkids growing up brings her incredible joy. Her strong family ties are no doubt part of what makes Kay so refreshingly down-to-earth and genuinely friendly; always eager and willing to share her enthusiasm for horses with others.
You can also find Kay writing books in her spare time. She loves to write historical novels and her last two take place in the rural setting of Wood County West Virginia right where Kay was born. She loves to write about things she knows, and "what better than things we have experienced and know like the back of our hand."
Her equestrian and professional accomplishments are impressive in their own right, but her rise from humble beginnings to humble greatness is also noteworthy.
"Never did I imagine it would evolve into what it has, I feel so lucky and very blessed," Kay told me. Looking back over her life she says she feels humbled by all the great things that have happened to her.
More About Kay Meredith
Book Review, "Affair At Boreland Springs," By Kay Meredith
Professional Accomplishments
Contact Kay Meredith
Kay Meredith
4025 Cuchalain, Road, Raleigh, NC 27616
Email: kmered6229@aol.com
Read More From Chris Cervantes
__________________________
Chris Cervantes is a Certified Trainer through Meredith Manor International Equestrian Centre, graduating with high honors. After training with FEI Dressage, Olympic Equestrian Pentathlon, and top Hunter-Jumper trainers and can currently be found teaching at Far West Farms in Calabasas CA. Cervantes loves killer whales and watching the "Today Show" with Matt Lauer. In his spare time, he enjoys reading, writing, and can be found kayaking in the harbor or lounging by the pool with a margarita. He can be contacted via email at ChrisDCervantes@gmail.com or Linked In.