Professional Market Research Roles of the Future
Market Researchers Are Working to Maintain Relevance in Changing Field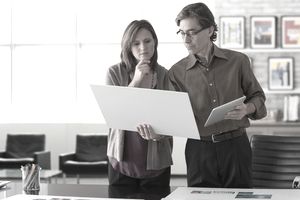 Market research clients and service providers responded to a recent survey conducted by GreenBook about the evolution of the research organization and its impact on professional roles in the future.  According to 63 percent of the clients and 67 percent of the suppliers surveyed, five years from now, the market research landscape will look considerably different.   The products and services delivered by market researchers are expected to change markedly.
  And these changes will result in the emergence of a new set of professional roles.
Market research trends point in these directions:
DIY tools for qualitative market research
DIY tools for quantitative market research
Social media market research
Big data market research
Emphasis on actionable consumer insights
Market research providers as strategy partners
In-Demand Market Research Roles of the Future
Market research suppliers and market research clients show very little separation in their expectations for the changes in the type of professional market research roles.  These changes will require expertise in different areas, with the resulting professional roles populating these main categories:
Data integration experts
Social media managers
Social media traffic analysts
Marketing strategists
Business strategists
Having reviewed these predicted changes in the market research industry, consider that the value proposition of firefish is as follows:
Firefish is an award-winning, international, independent research agency delivering a winning combination of strong strategic insight and thinking based on unparalleled consumer understanding.
Firefish exemplifies the fluid, agile new market research organization that is in-tune with their clients' needs even before their clients realize the changes they need - and that are possible.
  Firefish engages clients as an agency partner, which puts their strategic skills front and center.  A method-neutral stance is key to the firefish approach to clients.  In practice, this means that firefish does not press clients to:
"shoehorn their objectives into a method that doesn't quite fit."
Clearly, a reason firefish can take a method-neutral position is because the company delivers premium expertise in qualitative market research and quantitative market research, as separate approaches, and expertise that is seamlessly integrated to address complex research needs. 
Data Will Continue to Be Central, But the Data Sources Will Change
As with any business that relies on digital platforms and the Internet, market research is likely to become more global in nature; people who speak several languages are likely to be in high demand.  But the language preferences are not driven by an increase in the number of field interviewers.  Indeed, both 52 percent of the clients and 57 percent of the suppliers anticipate that fewer field interviewers will be deployed in the industry. 
Overall, there is an expectation that more market research will be conducted in virtual or digital environments.
  In other industries where person-to-person contact dominates, such as call centers, there has been a vast migration to countries where services cost less.  Experts assert that the same pattern will hold true for market research as interviewers are engaged in less developed countries.  In well-developed countries, person-to-person interviewing is expected to be supplanted by digital surveys - particularly on mobile devices. 
The mix of data sources is expected to shift in a digital direction, generating an increased demand for data collection experts.  As field interviewers decrease, 54 percent of market research suppliers and 51 percent of market research clients anticipate an increase in the number of specialty data collection and data analysis professionals.  The source of data will shift radically, in step with disruptive technologies, and data will improve in quality, quantity, and relevance.
The GreenBook researchers conclude:
Overall, the findings support a main industry theme from conferences, analysts, and journals: the aspiration to move to a more technology-based set of tactical skills with a mix of consultative talent to deliver business-relevant insights.
Source:  GreenBook Research Industry Trends