Production Resource Group Internship Opportunities
Opportunities in Entertainment &event technology Event Technology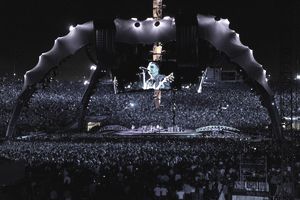 About Production Resource Group:
Production Resource Group (PRG) was founded in 1982 by Jere Harris as Jeremiah J. Harris Associates, and later renamed Harris Production Services. The company became Production Resource Group, L.L.C., (PRG) in 1995 as the result of the acquisition and merger of several production companies. PRG was founded to develop automation techniques for the live entertainment market.
PRG is the world's leading supplier of entertainment and event technology. PRGs projects have included the U2 360° Tour, Usher on the OMG Tour, the Lady Gaga Monster Ball Tour, Rhihanna Glow in the Dark Tour, the Black Eyed Peas, Eminem and JayZ, Bruno Mars, and Florence and the Machine, among others. In addition, PRG has taken on the technical challenges of major productions such as Broadway's Spider-Man: Turn Off the Dark (2011). For this groundbreaking production, PRG provided the lighting, audio, video and automation systems, as well as the construction of the massive scenery.
PRG currently operates from 40 locations in North America, South America, Europe, Asia, Australia, and Africa. They serve a range of markets including special events, theater, television and film. They offers systems design, integration, engineering and project management for permanent installations such as theme parks, museums, retail stores, performing arts centers, casinos and cruise ships.
They also work with designers, producers, programmers, engineers, and production managers at venues like theaters, stadiums & performing art centers, theme parks, and museums. Production Resource Group provides equipment as well as production and technical staff for lighting, audio or video, and can bundle an integrated solution to help meet all the needs of an entire project.
Internships:
Production Resource Group provides internships in the following areas:
Operations
Configuration and maintenance of entertainment audio, lighting and video systems
Scenic fabrication and automation
Project management
Warehouse management – logistics and trafficking
Purchasing and materials scheduling
Business management
Asset Management
Finance and accounting
Legal
Strategic management
HR and recruiting
Sales and business development
Marketing and communications
Benefits:
Internships at PRG helps students get exposure to the field to help them to better decide if a career in event and entertainment technology is the right career choice for them. Internship opportunities at PRG provides an opportunity to gain real-world skills and experience and allows students to explore the diverse aspects of lighting, audio, video, scenic and sales and integration operation and other aspects of the entertainment and production business. Networking with professionals in the field and establishing professional connections are key ways to be able to get your foot in the door in order to purse future jobs in the field.
Qualifications:
All applicants must be currently enrolled in an undergraduate or graduate degree program, have recently received a degree in theater technology or related program, or have a combination of education and experience appropriate to professional/technical development in technical theater or entertainment technology.
Applicants must be eligible to work in the United States.
Location(s):
PRG is headquartered in Armonk, New York. Other locations include New Jersey, Orlando, Nashville, Las Vegas, Los Angeles, and Chicago plus office in South America, Europe, China, Japan, Australia, and South Africa.
To Apply:
Candidates interested in being considered for an internship at PRG must provide:
A resume describing current studies, previous work experiences and desired internship discipline.
Dates of availability.
Location where you'd like to do your internship.
Names and telephone numbers of three professional references.
Information can be sent to one of the two people listed below:
Richard Rubin, Recruitment/Internship Program Coordinator, Email: rrubin@prg.com
Nicole Scano-Schwiebert, Vice President, Human Resources, Email: nscano@prg.com
All open positions can be viewed on their website.