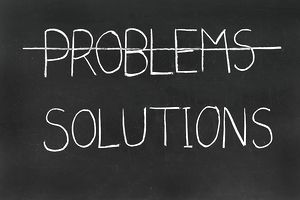 In nearly every sector, problem solving is one of the key skills that employers seek in job applicants. It is hard to find a blue collar, administrative, managerial, or professional position that doesn't require problem solving skills of some kind. 
How to Show You Have Problem Solving Skills
Your problem solving skills should be on display in your cover letter, resume, and application materials. Be prepared to discuss specific ways you used your problem solving skills during phone screens and interviews.
Look to previous roles - whether in academic, work, or volunteer settings - for examples of challenges you met and problems you solved while carrying out each function. You can highlight relevant examples in your cover letter. You can also frame bullet points in your resume to show off how you solved a problem.  
During interviews, be ready to describe situations you encountered in previous roles, the processes you followed to address the problems, the skills you applied, and the results of your actions. Potential employers are eager to hear a coherent narrative of the specific ways you have used problem solving skills. 
Interviewers may also provide an example of a potential problem, and ask you to outline the steps you should take to address it. To prepare, brainstorm issues that may arise in your field. For example, a cable television technician might be trying to resolve a customer problem with a weak signal.
A teacher might need to figure out how to improve the performance of her students on a writing proficiency test. A store manager might be trying to reduce theft of merchandise. A computer specialist might be looking for a way to speed up a slow program. 
Problem-Solving Steps
Now that you've brainstormed a list of potential problems, your next step is to think up effective solutions for these issues.
The steps in problem solving include:
Analyzing the factors or causes contributing to the unwanted situation
Generating a set of alternative interventions to achieve your end goal
Evaluating the best solutions
Implementing a plan
Assessing the effectiveness of your interventions
Be Creative When Offering Solutions
You don't have to provide a cookie-cutter answer. Employers are always eager for individuals who can "think outside of the box" and present new solutions, especially when old ones aren't working. 
The most important thing is to demonstrate your problem solving skills in your answer. If the interviewer proposes a potential problem, share how you'd resolve it. As you explain your thought process, use the steps listed above (from analyzing the cause to assessing the effectiveness of your interventions). Or, share an example of a problem you solved in a previous role. Explain how and why you solved the issue. 
Examples of Problem Solving Skills
The list below includes common strategies involved in problem solving. These skills can be useful to include in your answer to an interview question related to problem solving.
A – D
Anticipating Obstacles to Implementation
Assessing the Effectiveness of Interventions
Brainstorming Solutions
Determining Factors Impacting Stress
Developing Treatment Plans
Devising a Classroom Management Plan to Address Student Misbehavior 
Devising Hypotheses
Diagnosing Illnesses
Drawing Consensus Around a Set of Solutions
E – M
Evaluating Alternative Strategies for Reducing Stress
Finding Middle Ground 
Flexibility to Try New Approaches
Follow Through
Gathering Data
Identifying the Causes for Social Problems
Identifying the Interests of all Parties 
Implementing Solutions
Interpreting Data to Determine the Scope of Problems
Mediating Interpersonal Conflicts
P – Z
Pinpointing Behaviors Contributing to Marital Distress
Proposing Diplomatic Solutions to Border Disputes
Recognizing Invalid Research Models
Recommending Ways to Improve Communication in Relationships
Repairing Malfunctioning Machinery
Resolving a Customer Complaint
Restructuring a Budget after a Revenue Shortfall
Selecting Employees to Layoff During a Business Downturn
Testing Hypotheses
Troubleshooting Computer Malfunctions
Validating Data to Correctly Identify Problems
Skills Lists: Employment Skills Listed by Job | Lists of Skills for Resumes | Skills Not to Put on Your Resume
Related Articles: Soft vs. Hard Skills | How to Include Keywords in Your Resume | List of Keywords for Resumes and Cover Letters