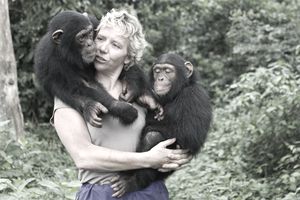 Primatologists are scientists who study primates including gorillas, orangutans, chimpanzees, and lemurs. They may work in a variety of roles within the field including research and education.
Duties
A primatologist's duties can vary widely based on whether they are primarily involved in education, research, or conservation.
Primatologists involved in education, such as professors, may have a variety of teaching duties including teaching undergraduate or graduate level courses, supervising student lab sessions, conducting research studies, and publishing their research findings in professional scientific journals.
Publishing research is critical for professors seeking tenure at a college or university.
Primatologists that are primarily involved in research may be responsible for planning research studies, providing basic care for the primates involved in the studies, supervising laboratory technicians, collecting data, analyzing results, and publishing their research findings in scientific journals. Research work for primatologists may occur both in the field and in the lab; extensive international travel may be involved for field researchers.
Primatologists involved in conservation efforts may manage a rescue or conservation facility, interact with the public through educational programs, give tours, direct fundraising efforts, or promote primate conservation through ecotourism or other avenues.
Career Options
Primatologists may work for a variety of employers including colleges, universities, laboratories, government agencies, field research organizations, conservation groups, biotechnology firms, pharmaceutical groups, zoos, veterinary clinics, or museums (where primatologists study primate fossils).
Primatologists may also specialize by studying one species of interest. Another option is focusing on one specific area of primatology such as genetics, behavior, reproduction, nutrition, or veterinary medicine.
Primatologists can search for career options and job openings on the Primate Info Net site maintained by the Wisconsin Primate Research Center Library (a division of the University of Wisconsin at Madison).
Education & Training
Primatologists generally have at least a four-year college degree. Many hold graduate degrees, especially those involved in teaching or research roles.
It is most common for primatologists to complete undergraduate studies in a field such as zoology, biology, psychology, bacteriology, pathology, veterinary medicine, ecology, or other related biological sciences. Coursework in computer-based technology, animal science, communications, and statistics generally proves useful.
Students of primatology can add other classes to their course of study based on their specific area of interest in the field. For instance, those interested in behavior could add a variety of psychology and behavioral science classes to their course load to better prepare them for future work in this area of primatology.
Aspiring primatologists should try to gain as much hands-on experience as possible while completing their college studies, as primatology is a highly competitive field. Students will benefit from volunteering or interning at primate centers, primate research facilities, or zoos to get relevant hands-on experience working with primates.
Joining professional organizations may also beneficial, as these groups offer networking and support to members.
The American Society of Primatologists (ASP), which publishes the American Journal of Primatology, is one such group. Other professional primatology groups include the International Primatological Society, the Primate Society of Great Britain (PSGB), and the Australasian Primate Society (APS).
Salary
The salary for primatologists can vary widely based on whether they are employed in academia, research, conservation, or other roles. Salary can also be influenced by a variety of other factors such as level of education, years of experience, and areas of expertise.
According to the Bureau of Labor Statistics (BLS), college or university professors who teach courses in the biological sciences earned a mean annual wage of $86,570 in 2010. The lowest 10 percent of biological science professors earned less than $40,380 while the highest 10 percent earned more than $153,540.
The 2010 BLS salary survey also reported that zoologists and wildlife biologists earned a mean annual wage of $61,660. The lowest 10 percent of zoologists and wildlife biologists earned less than $35,660 while the highest 10 percent earned more than $93,450. The mean annual wage for the more general category of biological scientists was $71,310 in 2010; the lowest 10 percent earned less than $38,780 while the highest 10 percent earned more than $102,300.
According to salary data collected by the North Carolina Association for Biological Research, primatologists earned an average annual salary of $50,082 in 2006.
Career Outlook
Competition is keen for positions in the field of primatology, especially for those positions that allow direct contact with the animals. Primatologists with significant experience or education in the field will continue to have the best prospects for employment through 2018.