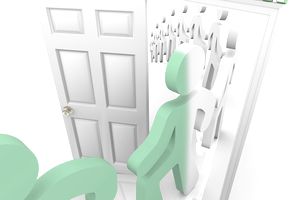 I recently wrote a post on ActiveRain about opening your mind as a real estate professional to PPC, Pay Per Click advertising. I made several points about how it is easy to control your budget, and how you get very focused visitors by controlling the search phrases that bring them to your website or blog.
I also mentioned that it can be a far superior method to SEO, which is very difficult with the competition.
A comment I received went like this:
Interesting list. Especially the SEO god part. I haven't had the best success at SEO. I think there is too much content to make a big difference. PPC can be helpful at driving traffic, but you should want qualified traffic.
I put the important part in bold, and it really surprised me. I had to really think about how someone could be thinking about how to narrow down Internet responses in order to "qualify" the prospects. I then did a Google search and found this from a website that provides information to real estate agents about marketing:
Q: How do I know if my Internet leads are serious buyers? A: The easiest way to save time and energy following-up with your Internet leads is to pre-qualify them by asking a few questions on your web form.
Here are seven great questions to ask:
1. Are you currently working with a real estate agent?
2. When are you interested in purchasing?

3. What type of home are you looking for? Condo? Single-family? Etc.
4. What is your comfort zone in terms of price?
5. Do you need to sell your current home before buying?
6. Have you been to [YOUR TOWN/MARKET] before?
7. Are you planning a trip to [YOUR TOWN/MARKET] soon?
Sorry, but this is the absolute most CERTAIN way to keep 80% or more of possible respondents from submitting your form!
I ask two questions on my lead forms:
First/Last Name
Email Address
It's short and sweet, and designed to keep them involved and get that valuable contact information. You can't try to "save your valuable time" by trying to get them to answer a bunch of questions to be certain that they're worth your efforts. At least you can't unless you only need a tiny portion of your site visitors to let you know who they are.
It's amazing how many real estate professionals will spend money for SEO gurus, website design, writing for their sites and blogs, and then they'll turn off a huge percentage of their visitors without ever knowing who they are. Sorry, but read my lips:
You can't pre-qualify Web leads without losing a lot of business!
You can set up automated follow-up email systems to contact EVERY unqualified lead and wait until they're a little more firm, which is when they ask a question or ask for more information on certain listings. That's how you qualify them as serious buyers or sellers. Then you can work with them a little more to see if they're financially qualified.
It's a new world, and you can't expect the Internet prospect to give up a lot of personal information and answer a bunch of questions about their intentions or financial abilities...at least not early in your relationship.
If you're expecting to "interview" them through an online form, expect to see very few form submissions. They want information, and they're willing to trade some personal contact information for it, but not too much.
Don't waste your money, time and efforts on a website or blog if you're going to turn off the vast majority of your visitors. Ask for only what you need to begin a conversation, and that's only a name and email address. If you still want that phone number, something they really don't want to give you, at least make it an optional field and don't require it.
***This is an update to this post.  Nothing has really changed, as I stand by everything here.  If you consider your time valuable enough to turn away prospects unwilling to take a test for your attention, then you're going to throw away good money.
 This isn't a sales business; it's a service business.  You serve your clients.  If you want prospects to serve you before they become clients, you're limiting your potential.