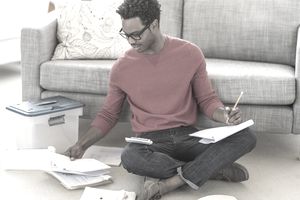 Preparing your taxes can be taxing – not to mention exhausting! Fortunately, there's some tricks to making tax time a little less frustrating.
Gather all your tax documents. This will include your W2s, any interest statements, stock trades, IRA contributions, and so forth. What documents you will need depends on your particular situation. Did you buy or sell stocks last year? If so, get out your trade confirmations.
Did you buy or sell a house? Get out your escrow statement or closing papers. Did you take classes? Find a statement from your college showing tuition and fees you paid.
Gather the necessary tools. This may include helpful books such as IRS Publication 17 (free PDF download) or an easy to read guide such as JK Lasser's Your Income Tax (my top pick for the easiest-to-understand tax book). Also check out reviews on various tax software programs. Pick the software program that's best suited for your needs, or just grab a pencil and start filling out your 1040.
Don't try to do your taxes all at once. Rome wasn't built in a day. There are 11 Steps to figuring your taxes. Do one step at a time. If you do one step a day, you'll give yourself plenty of time to carefully put it all together. Even tax professionals don't finish a tax return all at once. It is very useful to step back, rest for a day or two, and then approach the tax return with a new perspective.