Preparing for Sloan Sports Analytics Conference
Using LinkedIn for Networking and Research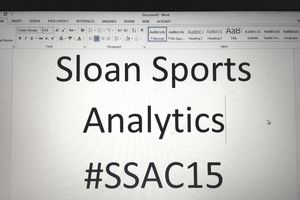 Part 1 of this article built the case for using LinkedIn to research the speakers at the Sloan Sports Analytics Conference Career Panel and reviewed the profiles of two of the panelists, Andy Rentmeester of Madison Square Garden and Evan Wasch of the NBA
Let's take a look at the other four panelists and what their LinkedIn profiles tell us about them in advance of the event.
Speaker: Mike Zarren
Position: Assistant General Manager and Team Counsel
Firm: Boston Celtics
Past Employers: N/A
Education: Undergraduate University of Chicago; Harvard Law School
LinkedIn Connections: 1
Shared LinkedIn Connections: N/A
Comments:  Mr. Zarren is not an active LinkedIn user.  And that is not uncommon for many high-level executives.  To keep from being inundated by requests to connect based on their high profile positions, they simply do not participate in LinkedIn - though by creating an account they are able to more easily search the site (hence the account and just one connection).  The information above was taken from Mr. Zarren's biography on the conference site.  It is a good reminder that while LinkedIn is a great resource for your background search, it is not the only place to look for pertinent information.
Speaker: Kristie Blasi
Position: Senior Director
Firm: ESPN Stats & Information Group
Past Employers: N/A
Education: University of Kansas
LinkedIn Connections: 100
Shared LinkedIn Connections: 1
Comments:  Ms. Blasi represents a different type of LinkedIn user.  Her profile is more complete that Mr. Zarren's, but only has limited information.  Her 100 contacts likely signal that she uses LinkedIn only to stay in contact with close colleagues.  Her conference bio indicates a journalism background and a Google search revealed just a brief mention in an article about her brother in law.
  My advice for interacting with Ms. Biasi at the event is getting her card is paramount in your quest to connect with her.
Speaker: Megan Morgan
Position: Associate Commissioner
Firm: American Athletic Conference
Past Employers: Wasserman, Titleist
Education: B.S. and M.A. Biochemistry, University of Scranton
LinkedIn Connections: 500+
Shared LinkedIn Connections: 0
Comments:  Ms. Morgan has a fully developed LinkedIn profile with over 500 connections.  I have no connections in common with her, but that should not be discouraging - you simply can't be connected to everyone.  At SSAC, I will make a point of introducing myself.  I'll also be looking to see if she is tweeting at the conference, as Twitter is another great way to connect real time.
Speaker: Matt Sebal
Position: President
Firm: KORE Software
Past Employers: N/A
Education: N/A
LinkedIn Connections: 126
Shared LinkedIn Connections: 4
Comments:  Mr. Sebal will be moderating the panel and his firm - KORE Software - is sponsoring the session.  With just more than one hundred LinkedIn connections (and an incomplete profile), he probably does not prefer to communicate on this platform.  Before the conference, I would recommend researching his company so that you can use that information as a conversation starter if you have a chance to meet him in person.
As mentioned in the comment about Ms. Morgan, another avenue for opening a dialogue with panelists or other attendees of a conference is engaging via Twitter.  The hashtag associated with the event is #SSAC15 and there are links to several good articles about the conference in the timeline.  The conference Twitter handle is @SloanSportsConf and is great follow throughout the year - but pay special attention during the conference.
Finally, if you are on site in Boston, be sure to follow me @SprtsMktgProf and tweet at me if you would like to meet up - it is always fun to chat with readers in person!