Prepare for Job Interview Like It Is Game Day
Just Like Athletes Practice, Preparation Is Key for Interviews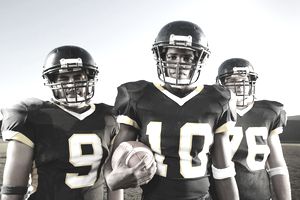 The first bit of advice  for a successful job interview seems especially basic: make sure you're interviewing for a job that you really want. Or at least a job you're enthusiastic to learn more about.
I bring up this point because all of the advice in the world is not going to hide a lack of enthusiasm for a position.
In fact, I think this may be the most important reason for an interview. Both employer and potential employee have a chance to see if they are a good fit for one another.
If you're not truly interested in the position, it will show through.
Here are some tips, set to a sports theme, to make sure that enthusiasm shows through. Hopefully, if this is a sports career, you're already enthusiastic about the position. Even if it's an entry level position, keep in mind the potential for future opportunity the job holds.
Don't Just Show Up on Game Day
Think of the interview as your game day. You wouldn't just show up to compete in sports, you would prepare for that contest. For interviewing, preparation starts with research.
One thing about sports careers, there typically is plenty of information available to research. Read up about the company on the Internet. The team or company website should have a wide range of information. If the company is publicly traded, there should be financial and company profile information available from financial analysts and financial websites.
If you know someone who works at the company, perhaps they will offer some interview tips.  Always check your LinkedIn profile for possible connections.
This research will allow you to answer this key question: "What do you know about our company?"
This preparation not only will impress the interviewer, it will reduce your amount of nervousness and provide you with confidence.
Practice, Practice, Practice
After you complete your research about the company, try to anticipate the questions you will be asked and prepare answers. In practice, be sure to not only critique the answers but the style in which you answer them. Perhaps a trusted friend will ask you the questions and provide a critique.
With your research complete, try to match your strengths to what you know about the team, league, or sports business position you are pursuing.
Sharp Uniform
While some sports jobs require only casual attire on a day to day basis, it is important to wear conservative business attire to the job interview. This is a day that you want to be at your best and such attire not only will register the right note with the interviewer, it also will help with your confidence.
Right Place, Right Time
Part of the reason our favorite athletes look so impressive is they do the little things. When it comes to a job interview, this involves making sure you arrive early and at the right place.
The day before the interview, double-check the location. Don't just use GPS for directions. Call the company ahead of time to make sure those directions are correct. Arrive at the interview at least ten minutes early.
Also, find out about the approximate length the interview process will take. Some companies may have other items on the day's agenda that could include multiple interviews, tests, and even small assignments. You do not want to have any other appointments weighing on your mind during the day so make sure you know how much time to set aside.
Again, by doing these things you not only will make a good first impression, you also will increase your comfort and confidence levels. Nobody wants to start an interview with an apology for arriving late.
Make It Happen
You've done all the small things, now it's time to shine. Be sure to listen to every word of the interviewer's questions - and then answer accordingly.  You may be extra amped up on "game day", so be sure and speak slowly and clearly - just like you did at "practice".
Also, come in with typed questions prepared based on research.  This will impress the interviewer and also allows you to concentrate on their questions, without having to try to think of questions on the fly.