PowerWallet Helps You Track Your Money
A Tool That Helps You Track Your Income, Spending, and Bills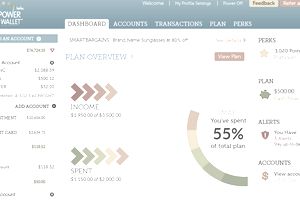 You probably have a bunch of different online accounts. You have bank accounts, you've got credit and debit card accounts, and you've got brokerage firms. How on earth do you keep track of all of that?
The answer: link all of your accounts to an online program that allows you to view everything in one place.
There are plenty of online programs that do this. Mint.com is perhaps the most popular, but for those of you who either don't like it or are looking for an alternative, there's a new player on the market.
It's a company called PowerWallet.
Why PowerWallet?
PowerWallet allows you to instantly view your accounts in one place. Online banking and online bill pay are fantastic concepts, but going to each individual site to get a feeling for your finances is  time-consuming.
PowerWallet solves this by allowing you to link all of your accounts into their centralized platform so you can log into your PowerWallet account and view your balances.
This capability extends to bank accounts, credit cards, investment and brokerage accounts, mortgage accounts, your utility account, and your car loan account. Retail-specific providers, such as a credit card that's linked to Sears or Kohl's, can also be linked to a Power Wallet account. PowerWallet has established relationships with more than 16,000 providers and retailers.
How Does PowerWallet Work?
PowerWallet is read-only, which means all you can do while you're in there is look at the balances within your accounts.
You can't transfer any money around or withdraw or remove any of your funds.
PowerWallet is also backed by some of the most highly secure systems in online banking, including McAfee, Trustee, and VeriSign. That's another way of saying PowerWallet is as secure as any online bank could possibly be.
The company is still fairly young.
It was created after the Great Recession and it was designed to be very user-friendly and intuitive. Unlike Mint, it's not specifically a budgeting program.
It's a program in which people can manage and track their income, bills, spending, and debt - all in one place. You can currently only access it on a computer, though they will soon have an app for both the Android and iPhone mobile device.
Why It's Recommended
I recommend that people sign up for PowerWallet. It's also free to use, so there's no reason not to sign up. Creating an account takes just a few minutes. Seeing all of your accounts in one spot is a great benefit, and you'll also receive alerts when one of your bank account balances drops below a certain threshold (when you have a low balance).
You'll also get reminders when a bill is due and an alert if you exceed the limit on any of your budgets. You'll even get an alert if you make a large purchase or get a bank fee.
Those are great features, particularly on a free account -- so sign up today and let PowerWallet help you manage your money.
Disclaimer: I did NOT receive any compensation, nor did I receive any gifts or free items, from PowerWallet or any of its parent or affiliated companies. PowerWallet did not have any knowledge, influence or oversight into this article prior to publication. All opinions are my own.