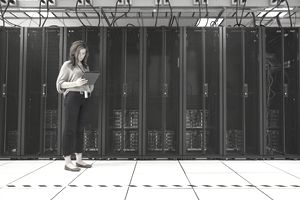 As cloud storage expands and more and more important information becomes web-based, the profession of information security has seen an increased demand for professionals who are experienced in network security auditing, penetration testing, and digital forensics investigation.
The increased demand for security professionals is one of the reasons why many of the highest paying technical certifications have a security focus.
Here are seven of the more popular certifications that focus on information security.
1. CISSP - The Certified Information Systems Security Professional
The CISSP is an independent information security certification.
This means that it is vendor neutral and covers topics related to information security around the world.
When it comes to professional individual certifications, it is the gold standard. It covers subjects including:
security and risk management
asset security
network security
software development security
Your weeks to months of studies will culminate in an intense 6-hour, 250-question exam, which costs $599 to take. It's not cheap or easy, but passing is a great way to prove you know your stuff.
2. ISSAP - Information Systems Security Architecture Professional 
A CISSP certification has a concentration in information systems security architecture.
Note: an ISSAP is an exam taken by someone who already holds a CISSP certification.
CISSP-ISSAP requires a candidate to demonstrate two years of professional experience in the area of architecture. It is a certificate oftentimes sought by Chief Security Architects and Analysts who may work as independent consultants or related. Main duties of ISSAP-related jobs typically involve developing or reworking overall security plans.
It costs $399 to sit the 3-hour ISSAP exam.
3. ISSEP - Information Systems Security Engineering Professional
A CISSP certification with a concentration in information systems security engineering. 
Essentially, studying for and taking the ISSEP gives you a framework for incorporating security measures into projects, applications, and all information systems.
The ISSEP was first developed in conjunction with the U.S. National Security Agency (NSA). It provided, and still provides, an invaluable tool for any systems security engineering professional.
Like the ISSAP, it is a 3-hour exam priced at $399. 
4. ISSMP - Information Systems Security Management Professional
A CISSP certification with a concentration in information systems security management.
The ISSMP contains managerial elements, such as:
project management
risk management
setting up and delivering a security awareness program
and managing a business continuity planning program
Usually, ISSMP certification holders will construct the framework of information security departments as well as define the means of supporting the group internally.
It is the final CISSP sub-certification with the same price and time-frame as the others.
5. CISM - Certified Information Security Manager
The management-focused CISM certificate promotes international security practices.
Taking it requires five years of experience working in security.
It has been designed for an individual who manages, designs, oversees, and assesses an enterprise's information security.
The CISM typically costs between $545 and $595 (cheaper for members of the ISACA). It is a 4-hour exam with 200 questions.
6. CSSLP - Certified Secure Software Lifecycle Professional
The CSSLP certification from (ISC)² validates your application security competency within the software development lifecycle.
Those who obtain a CSSLP prove their skills in developing an application security program in an organization as well as reducing production costs, application vulnerabilities, and delivery delays.
The intensive 4-hour exam comes with a price tag of $549.
7. SSCP - Systems Security Certified Practitioner
The SSCP shows an individual's ability to tackle the operational demands and responsibilities of security practitioners.
This includes:
authentication
security testing
intrusion detection/prevention
incident response and recovery
attacks and countermeasures
cryptography
and malicious code countermeasures.
The SSCP is an ideal credential for those with proven technical skills and practical security knowledge in hands-on operational IT roles. You'll pay $250 for the 3-hour exam.
Certifications can go a long way to proving your expertise in a field—and studying for it could very well turn you into an expert if you aren't already. Don't skimp on the practice exams and enjoy the new jobs these certifications qualify you for.