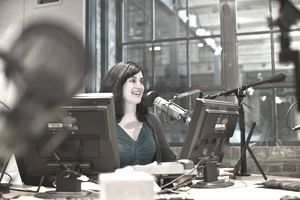 Should authors start a podcast?
Podcast listening grew 23% between 2015 and 2016, up 75% from 2013 (according to Edison Research). Whether hosting their own podcasts or being a guest on others, many authors are finding their literal "voice" on this medium to help enhance their author platforms and build their brands. 
As a "show architect, a host whisperer, a narrative doctor and a soundscape fixer," Susan Davis has brought the most memorable, most profound, most complex and most interesting characters and stories to the listeners of Public Radio and other broadcasts for two decades.
The principle of the consulting firm, Betterbroadcasts.com, Davis teaches her aural storytelling wisdom to the growing number of podcasters as well as those on more traditional airwaves. 
In this Q&A, Susan shares some of her podcasting insights and tips with Book Publishing Expert, Valerie Peterson:
Two Keys to Podcast Popularity
Valerie Peterson: Susan, like the audience for another "listening" medium, audiobooks, podcasts have grown so much in popularity in recent years. As an expert, to what do you attribute that popularity?
Susan Davis: I think it's about two things: on-demand and intimacy.
Millennials have grown up expecting to hear and watch what they want when they want it. Older generations have adapted to that and podcasts fit the bill perfectly. And while there is constant chatter about our shortened attention spans and lack of focus, I think the podcast explosion is proof of the opposite.
Podcasts are often a deep dive into niche or specific subjects and people are hungry for that kind of material. Also, podcasts tend to be more about storytelling and personality than about The News with a capital N, so listeners develop relationships with the podcast hosts and the tone/personality of the broadcasts and look forward to spending that time together.
VP: What do you feel are the lessons in that for book authors? 
SD: What a great question. I think that authors can take heart that people long for intimacy, and poetry and don't need to be spoken down to. That's it's not just good, but profitable to explore all kinds of perspectives, narratives and truths.
Successful Podcast Building Blocks
VP: For the authors and others out there who are thinking of launching a podcast, what do you consider "the building blocks" of a successful podcast? 
SD: Well, there are several kinds of success. If you are talking strictly numbers, having a following on other platforms — social media in particular — is an important building block.  In terms of content, I think anything goes as long as the intention is respectful and joyous and the vision is authentic. The qualities of a great podcast host are the qualities of any great host of anything: graciousness and generosity. Snark has its place but meanness turns people off. So one thing successful podcasters do consistently is listen to themselves and check their tone. It can be a fine line between hilarious sarcasm and degradation, but it's important to walk it.
VP: Of those, do you feel any one element is more important than the others?
SD: I think making sure that you have only high expectations and admiration for your audience is the most important thing. Listeners are immediately turned off by contempt, and they can hear it from a mile away.
Podcast Tech is Easy, But...
VP: You've said that all you need to get started is an iPhone and a computer - can you share a basic tech tip or two that will help the author trying this out?
SD: Most people are most anxious about the tech part, but honestly, it's the easiest part in that it's mechanized. You can learn to do it through you tube videos or manuals. It's seriously just about pushing the right buttons and following directions.
The tricky part is in the design and presentation of the content - your tone, your attitude, your sound, your range. If you focus on that, you'll have more success.
If you are particularly worried about the tech part, barter with a young person to do it for you! Their fearlessness will save the day.
VP: What's the biggest mistake that many wannabe podcasters make? In your opinion, when should an aspiring podcaster actually reach out to an expert for help? 
SD: So, here's the thing: While anyone can podcast, not everyone wakes up knowing how. (And this is one of the reasons why the most listened to podcasts on iTunes are often made by radio professionals.)
The first thing a wannabe podcaster should do is listen to as many podcasts as s/he can stand, and take notes about what works and doesn't, what you do and don't like. An expert is useful at any stage, but you'll get the most for your money if you have already schooled yourself in what's out there, and thought through what you'd like to accomplish.
Podcasting as Author Brand Builder
VP: Many authors think about podcasting to promote themselves and their books - but podcasting requires outreach to build and audience, too. What are your thoughts on managing podcast vs. book promotion so it's not "chicken and egg"?
SD: I don't recommend podcasting to promote a specific book. It's a better way to establish your brand, your voice, your relationship with readers. The best podcasts are conversations, so I'd advise an author to design their podcast to bring out their most passionate self. That means they may want to podcast about something other than writing, maybe about travel or cooking, or something that feeds their ideas and imagination but allows them to reach out to their readers through life experiences and common interests.
Great Podcast Examples
VP: What are your favorite book-related or literary or any other pertinent podcasts that are great examples?
The Infinite Guest Podcast Network has a podcast hosted by Jess Walter and Sherman Alexie called A Tiny Sense of Accomplishment that I adore. It can get a bit "Bromantic" but it's always funny and deep and illuminating.
I also like "The Truth" from Radiotopia, a podcast featuring short stories, as well as "The Organist" from the people who publish McSweeney's. 
The Esquire Classic podcast rocks. And David Brancaccio is a living example of host best practices!
The podcast network Ear Wolf is so creative and interdisciplinary that it would be hard to call any of their shows "literary" and yet it would be hard not to call them all "literary." You'll just have to listen.
VP:  On that very appropriate note, I'll say thanks so much for all the wonderful podcasting wisdom and insights. 
About Susan Davis:
Susan Davis is a storyteller - by nature, by craft, by art and by profession.  For more than two decades she's designed and produced shows and series for Marketplace, NPR and North Carolina Public Radio. Since starting her consulting firm, Betterbroadcasts.com she's helped with Press Record, The Good Fight, UN Watch and Classical Classroom.  She teaches all aspects of radio content production at Duke, UNC and WFU in North Carolina, where she lives, as well as for The Public Radio News Directors Association and at seminars around the country and internationally. In her spare time she has written a book of poetry, "Gathering Sound," edited a collection of essays and contributed to several nonfiction anthologies.