What Every Event Planner Should Know About Winter Weddings
Some Unique Challenges A Winter Wedding Can Throw Your Way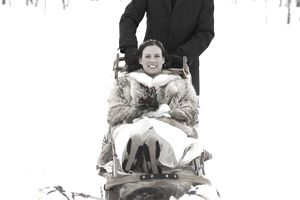 Winter weddings aren't as unique as you may think, but every season presents its own set of challenges for you as a wedding planner. Winter weddings can be particularly demanding and should be carefully planned with the possibility of last minute glitches on your mind.
If winter nuptials are on the cards for your clients there are a few extra event planning tips to add to your wedding planning checklist.
Here are some essentials that every event planner should know about winter weddings.
Planning a Winter Wedding
WEATHER
The one thing you can't predict is the weather, but it's a good idea to be prepared and get some historical information from previous years to guide you.  Check ahead of time with the local tourist board to find out how much of a challenge the weather is likely to present.
Aside from Google, tourist boards can give you information, based on past data, about likely temperatures, rainfall, wind and even the possibility of snow. A word of caution, though.  As a result of global warming, weather patterns are becoming more erratic and increasingly difficult to predict. Use the information you glean as a guide but always be prepared for unforeseen circumstances when planning a winter wedding. If the weather decides it doesn't want to play ball, you need to be one step ahead of the game at all times.
FLIGHT DELAYS
If part of your brief as the wedding planner is to arrange schedules for guests that involve connecting flights, it's a good idea to use airports as far south as possible. By doing this you'll minimize the chances of connecting flights being delayed on account of bad weather.

For example, if you had the choice of connecting flights at Dallas or Chicago, choose Dallas in the winter months.
GUEST COMFORT
The most important challenge you face when planning a winter wedding is ensuring that guest are comfortable, especially if it's freezing cold outside. Here are some steps you can take to make sure winter wedding guests are kept warm and comfortable:
Transport – it's important to pay close attention to the transport you'll be providing for guests attending a winter wedding. If guests are arriving from airports or railway stations, their first impression of how well the event is organized will be how they're transported to the event itself.

Deal only with reputable service providers and make sure that you personally inspect the vehicles they'll be using to transport your guests.
Parking – if guests are arriving by car make sure you have the parking arrangements nailed down with the venue. Put yourself in the position of your guests. Would you like to walk hundreds of yards in the freezing cold or arrive wet and miserable at the venue? Of course, you wouldn't and neither would your guests.

Arrange parking as close as possible to the event. If that's unavoidable and guests do have to walk a distance from the nearest available parking, provide transportation for them from their vehicle to the entrance of the venue.
Free-standing heaters – you may need to rely on free standing heaters if the event venue or location isn't equipped with adequate heating. If your winter wedding reception is in a marquee, for example, heating can be a real challenge.

Bear in mind it's winter and you won't be the only one looking to hire freestanding heaters. Don't leave this detail to the last minute - book heaters early in the planning process.
Accommodation – just as you want to make a positive impression with first class transportation, you also need to vet guest accommodation thoroughly.

Check that rooms are clean, adequately heated and extra blankets and heaters are available for your guests if needed.
CANCELLATION
Despite all your careful planning, the possibility of a winter wedding being canceled or delayed due to unforeseen circumstances should never be overlooked.
Go over all contracts carefully and make sure that your client is fully aware of all costs that may be incurred in the event of a cancelation.

No one likes surprises so don't gloss over this detail. Make sure everyone involved understands the consequences and costs involved if the worst should happen.
Winter weddings can be hugely successful and guests often enjoy the uniqueness of a well-run seasonal event. With a little foresight and careful attention to detail, your winter wedding can be a special occasion to remember.