5 Key Considerations For Planning a Winter Event
Get Creative And Give Your Event Planning Career A Boost This Winter Season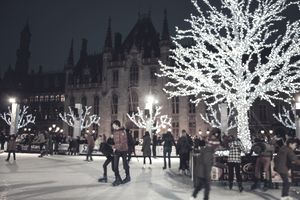 The winter season presents a unique opportunity for planning a winter event. Think snow, think festivities and think stunning winter-themed decoration - the possibilities to shine are limitless.
All it takes is a little imagination and a few good ideas to get the creative juices flowing and for you to create an amazing winter wonderland for your guests.
But, before you start planning a winter event, there are a few key considerations to take into account.
Planning a Winter Event
1. Location
If you're near a ski resort why not consider using it as the venue for your winter event? With winter snow falling you'll have an amazing backdrop with endless photo opportunities. Guests can be snapped sitting on ski lifts, walking in the snow or even atop a horse-drawn sleigh. Careful choice of venue gives you the opportunity to put on something truly different and memorable for your guests.
If your event is of an appropriate size, try to hunt down a venue with a huge open fireplace. It's a fantastic way to add a cozy atmosphere to the event and is really in keeping with the winter theme.
2. Decorate, Decorate, Decorate.
A winter theme is a great event planning opportunity and an open invitation to have fun with decorations. Adorn chairs with covers inspired by the season. Festive is the way to go if the event is appropriate for this particular theme. Think holly, berries, and snow – all the decorative items associated with the festive season can come into play.
Why not decorate the venue to look like a magical snow-covered forest in keeping with the winter theme? You can achieve this look by using indoor trees, cotton wool, trimmings, glitter, and beads. You're only limited by your imagination.
Remember to make a special effort with menus, programs, and other table items.
Enhance your winter theme by using crystals that are reminiscent of snow or ice or show off an impressive ice sculpture with the company logo embossed into the ice.
3. Guest Comfort
Naturally, at a winter event, you need to take guest comfort into consideration more so than on a warm summer's evening. Think about laying out blankets, check the availability of additional heating and make sure guests' rooms are warm and cozy. Nothing is more certain to spoil your guests' happy memories of your winter event more quickly than having to spend the evening in a cold room.
4. Stay in Control
As the event planner, the responsibility for the success of your event lies squarely on your shoulders. You're responsible for co-ordinating all aspects of the event planning process and in winter you should naturally pay special attention to the weather.
Keep yourself updated on weather forecasts and advise your clients accordingly. It may be that you have to do some contingency planning (always have a back-up plan) if the weather doesn't work in your favour. Make sure to talk to the venue management because they have the experience to advise you on how to handle inclement weather.
5. Special Winter Venue Considerations
Make sure whatever venue you choose is going to be accessible to your guests in the event of heavy snow. If you use a ski resort, for example, it's a good idea to check how accessible the venue has been in previous years and what equipment the resort has to keep the venue open should a heavy fall of snow occur. Accessibility is key to a ski resort's success so, once again, management should be able to arm you with all the information you could possibly need to make an informed decision.
Finally, make certain that the venue itself caters for the proper clearing of localized snow and ice as well as the salting of their outdoor areas. You don't want your amazing winter event to be spoiled by slipping accidents that could have been avoided with a bit of foresight.
Planning a winter event affords you to shine in your event planning career and gives you the chance to save money because it's not peak season for most vendors and venues.