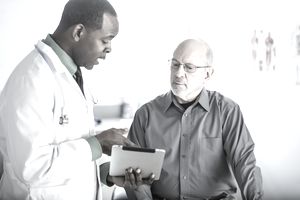 A physician assistant is a member of a medical team that includes doctors, surgeons, nurses, and other healthcare professionals. Commonly called a PA, he or she provides primary medical services. These services include performing examinations, ordering tests, diagnosing injuries and illnesses, administering treatment, prescribing medicine, and monitoring progress. A physician assistant may be named by his or her medical specialty, for example, a family practice, general surgery, or orthopedic physician assistant.
Sometimes a physician assistant is incorrectly called a physician's assistant, implying that he or she assists a doctor, but is not a primary care provider. On the contrary, a PA provides primary care to patients. While a  licensed physician must supervise a PA, he or she does not have to be on the premises of the medical facility while the PA is working. 
Quick Facts
Physician assistants earned a median annual salary of $101,480 in 2016.
In 2014, there were 94,000 people employed in this occupation.
Most worked in doctors' offices and hospitals.
Jobs were usually full time. Twenty percent of PAs had part-time positions.
The U.S. Bureau of Labor Statistics classified this as a "Bright Outlook" occupation because of its excellent job outlook. The agency expects employment to grow much faster than the average for all occupations through 2024.
Roles and Responsibilities
Before you decide whether this career is right for you, it is important to learn what your job duties would be.
These come directly from job announcements on Indeed.com.  Physician assistants:
"Perform comprehensive and problem focused history and physical exams"
"Collaborate with the other members of the patient's health care team in order to provide an appropriate plan of care"
"Discriminate between abnormal and normal findings to recognize early stages of physical, emotional, and/or mental problems"
"Documents and communicates relevant patient information comprehensively and in a timely manner"
"Counsel and educate patients regarding health maintenance and disease prevention"
How to Become a Physician Assistant
If you want to become a physician assistant, you will have to earn a master's degree from a PA training program that has received accreditation from the Accreditation Review Commission on Education for the Physician Assistant (ARC-PA). This usually takes two years.
Entrance requirements to PA training programs vary, but those who get admitted usually have a four-year college degree in science as well as experience working in a health-related job. In addition to coursework in pathology, anatomy, diagnosis, and medical ethics, you will also participate in supervised clinical training in one or more areas of medicine.
All 50 states and the District of Columbia require PAs to have a professional license. In addition to a master's degree, you will have to pass the Physician Assistant National Certifying Examination (PANCE) which the National Commission on Certification of Physician Assistants (NCCPA) administers. Your certification must be renewed every 10 years. To qualify for recertification, you will have to complete 100 hours of continuing education every two years.
For information about practicing in a particular state, contact its licensing board. NCCPA maintains a list of licensing boards on that organization's website.
What Soft Skills Do You Need to Succeed in This Career?
The Difference Between a Physician Assistant and Medical Assistant
A physician assistant is a primary care provider who diagnoses illnesses and injuries before treating them. A medical assistant may perform clinical tasks such as taking vital signs or drawing blood. He or she may even administer medications under a physician's direct supervision, but unlike a PA, never provides primary care independently.
Medical assistants are not required to receive any formal training or be licensed. They need a high school or equivalency diploma. Employers often provide on-the-job training, although some people who work in this occupation complete a one to a two-year formal training program.
What Will Employers Expect From You?
Here are some requirements from actual job announcements found on Indeed.com:
"Must be able to function independently"
"Must be dependable, hard working, willing to work long hours, and eager to learn"
"Ability to use tact and diplomacy to effectively handle a broad range of high level and sensitive interpersonal situations with diverse personalities, and to respond appropriately to conflicts and problems"
"Demonstrated ability to maintain a high degree of confidentiality"
"Ability to handle difficult patients"
Is This Occupation a Good Fit for You?
Related Occupations
|   | Description | Median Annual Wage (2016) | Minimum Required Education/Training |
| --- | --- | --- | --- |
| RN | Treats, supports, and advises patients and their families | $68,450 | Bachelor's, Associate, or Diploma in Nursing |
| Advanced Practice RN | Provides primary specialty medical care, working under the titles nurse practitioner, nurse midwife, and nurse anesthetist | $107,460 | Master's Degree from Accredited Advanced Practice RN Program |
| Doctor | Diagnoses diseases and injuries, and treats patients | $190,490 to 208,000+ (varies by specialty) | MD or DO Degree (4 years) + 3 to 7 Year Residency |
Sources:
Bureau of Labor Statistics, U.S. Department of Labor, Occupational Outlook Handbook, 2016-17 (visited August 9, 2017).
Employment and Training Administration, U.S. Department of Labor, O*NET Online (visited August 9, 2017).