Philadelphia Premium Outlets in Limerick, Pennsylvania
Shop Upscale Designer Merchandise Up To 60 Percent Off Daily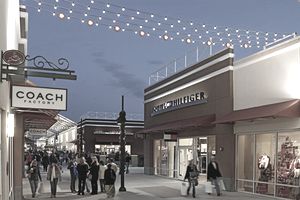 Philadelphia Premium Outlets is an open-air shopping mall with 150 name-brand outlet stores and designer factory stores. The outlet mall is around 35 miles northwest of downtown Philadelphia and convenient to travel to and from the Pottstown, Limerick, and Royersford areas.
The key stores include AnnTaylor, Coach, Calvin Klein, Kate Spade New York, Neiman Marcus Last Call, Michael Kors, Tommy Hilfiger, Vera Bradley and Restoration Hardware.
See the complete list of outlet stores below.
Philadelphia Premium Outlets opened on November 8, 2007, with 120 stores and expanded in April 2008 to 150 stores. Although it is an open-air mall, there are covered shopping areas.
The outlet mall is crowded on the weekends and parking can be difficult. Valet parking is available on Saturdays and Sundays, 10 a.m. - 9 p.m. It is near Under Armour in Lot P.
Outlet Mall Address:
18 West Lightcap Road
Limerick, PA 19464
Phone: (610) 495-9000
Directions to the Outlet Mall:
Philadelphia Premium Outlets is located approximately 35 miles northwest of downtown off of Route 422, Sanatoga exit, in Limerick, PA.
Visit the outlet mall website for  detailed directions from Philadelphia, Reading, Allentown, Lancaster, Harrisburg, Northern New Jersey & New York City and Delaware and bus, taxi and limousine services.
Philadelphia Premium Outlets Coupons and Sales
The Philadelphia Premium Outlets Deals webpage is the place to go to find up-to-date information on in-store promotions and coupons.
To find out about center-wide events, such as seasonal sidewalk sales and events after Thanksgiving, visit the News webpage.
For more savings, the free VIP Shoppers Club has an exclusive webpage with store coupons just for members.
Veterans and members of the military and their families can also get additional savings all year with the free Savings Passport.
All that is required is that they show their military IDs at the Information Center.
Store List
Adidas Outlet, (610) 327-9565
Aerie Outlet, (610) 705-1873
Aeropostale Outlet, (610) 326-7316
Aerosoles Outlet, (610) 323-1678
Aldo Outlet, (610) 970-1398
American Eagle Outfitters Factory Outlet, (610) 705-1873
Ann Taylor Factory Outlet, (610) 718-5660
ASICS, (610) 970-3236
As Seen On TV, (610) 970-8300
Banana Republic Factory Outlet, (610) 718-8390
Bare Minerals Outlet, (610) 326-2035
Bass & Co. Outlet (G.H.), (610) 326-6838
Bath & Body Works Outlet, (610) 327-1858
BCBG Max Azria Factory Outlet, (610) 323-0810
Brooks Brothers Factory Store, (610) 326-1804
Cabi Factory Store, (610) 326-7013
Calvin Klein Company Outlet, (610) 326-6841
Carter's Outlet, (610) 970-3246
Casual Male XL Outlet, (610) 327-3849
Catherines Outlet, (610) 327-1294
Cell Point, (484) 933-4722
Charlotte Russe Outlet, (610) 705-5982
Chico's Outlet, (610) 323-5753
Claire's, (610) 327-4584
Clarks Bostonian Outlet, (610) 327-1595
Coach Factory Outlet, (610) 326-4860
Coach Men's Outlet, (610) 327-2354
Cole Haan Outlet, (610) 970-5374
Columbia Sportswear Outlet, (610) 326-8482
Converse Outlet, (610) 326-8000
Crabtree & Evelyn Outlet, (610) 327-4340
Crewcuts, (610) 323-5719 
Crocs Outlet, (610) 705-0129 
Diesel Outlet, (610) 705-5570
Direct Tools Factory Outlet, (610) 326-5840
Disney Store Outlet, (610) 323-4810
DKNY Outlet, (610) 705-3856
Dressbarn Outlet, (610) 323-5321
Eddie Bauer Outlet, (610) 327-2961
Elie Tahari Outlet, (610) 970-4547
Express Last Hurrah Outlet, (610) 323-2255
Famous Footwear Outlet, (610) 323-6561
FILA Outlet,  (610) 426-0250
Finish Line Outlet
Forever 21 Outlet, (610) 326-3713
Fossil Outlet, (610) 323-2428
Fragrance Outlet, (610) 323-0710
Francesca's, (610) 970-3896
Gap Kids & Baby Outlet, (610) 970-8501
Gap Outlet, (610) 970-8501
Gold Toe Outlet, (610) 323-5476
GUESS Factory Outlet, (610) 970-1826
Gymboree Outlet, (610) 326-7051
Haggar Outlet, (610) 705-1962
Hanes Brands Outlet, (610) 970-5767
Harry & David, (610) 323-0305
Hot Topic Outlet, (610) 326-3457
J.Crew Factory Outlet, (610) 323-5719
Jockey Outlet, (610) 323-5599
Joe's Jeans Outlet, (610) 970-3816
Johnston & Murphy Outlet, (610) 705-6260
Journeys, (610) 705-1878
Justice Outlet, (610) 323-8380
Kate Spade New York Outlet, (610) 326-6242
Kays Jewelers Outlet, (610) 326-2283
Kenneth Cole Outlet, (610) 323-4420
Kitchen Collection, (610) 718-1280
Lane Bryant Outlet, (610) 705-3467
Le Creuset Outlet, (610) 327-0403
Levi's Outlet, (610) 326-4940
Lids, (610) 970-6890
Lindt Chocolate, (610) 970-2403
LOFT Outlet, (610) 705-0750
Lucky Brand Outlet, (610) 323-0276
Luxury Beauty Store, (610) 323-7012
Maidenform Outlet, (610) 327-1050
#Makeup, (610) 970-6935
Max Studio Outlet, (610) 323-2079
Merrell Outlet, (610) 327-6978
Michael Kors Outlet, (610) 327-8000
Mountain Warehouse, (610) 323-3795
Movado Company Store, (610) 705-5592
Naturalizer Outlet, (610) 327-3081
Neiman Marcus Last Call, (610) 326-4230
New York & Company Outlet, (610) 323-3051
Nike Factory Store, (610) 327-1748
Nine West Outlet, (610) 970-1145
Oakley Vault Outlet, (610) 327-1500
OshKosh B'gosh Outlet, (610) 327-1354
PacSun Outlet, (610) 326-1813
Perfumania Outlet, (610) 718-5805
Perry Ellis Outlet, (610) 705-5972
Polo Ralph Lauren Factory Outlet, (610) 326-3795
Puma Outlet, (610) 326-2003
RBX Active, (No number listed)
Reebok Outlet, (610) 326-4918
Restoration Hardware Outlet, (610) 970-1518
Robert Graham Outlet, (610) 323-1750
Robert Wayne Footwear Outlet, (610) 327-4920
Rockport Outlet, (610) 718-9051 
Rue 21 Outlet, (610) 970-5241
Silver 'N Beyond, (610) 970-2959
Skechers Outlet, (610) 326-9733
Solstice Sunglass Outlet, (484) 933-4587
Spyder Outlet, (610) 323-4410
Steve Madden Outlet, (610) 705-5710
Sunglass Hut Outlet, (610) 327-2711
Talbots Outlet, (610) 323-7035
The Children's Place Outlet, (610) 705-4890
The Cosmetics Company Store, (610) 970-2812
The North Face, (610) 323-6575  
The Uniform Outlet, (610) 327-0800
Theory Outlet, (610) 326-5040
Things Remembered, (610) 970-1540
Timberland Factory Outlet, (610) 327-1734
Tommy Hilfiger Kids Outlet, (610) 718-9571
Tommy Hilfiger Outlet, (610) 718-9571
Toys R Us Outlet, (610) 326-3527
True Religion Brand Jeans Outlet, (610) 323-5140
UGG Australia, (610) 628-3356
Ultra Diamonds and Gold Outlet, (610) 326-2283
Under Armour Outlet, (610) 326-6205
Van Heusen Outlet, (610) 326-6860
Vans, (610) 323-4362
Vera Bradley Outlet, (610) 323-1366
Verizon, (610) 323-9980
Vitamin World, (610) 705-0126
White House Black Market Outlet, (610) 326-9361
Wilsons Leather Outlet, (610) 326-3391
Yankee Candle Outlet, (610) 326-5680
Zales The Diamond Store Outlet, (610) 323-8187
Zumiez Outlet, (610) 323-5795