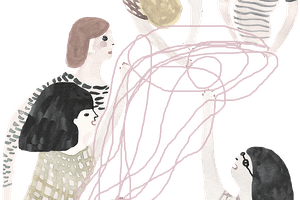 About the magazine:
The new weekly magazine, Penny, will feature illustrated flash fiction beginning in January 2016, but submissions are open now. What makes this site unique is the Penny Engine, where writers can submit a short piece that either is inspired by an already submitted piece of art, or else submit a piece and wait for an illustrator to be inspired by their words! When a match is made between the artwork and the prose, the magazine considers it "completed." It is then considered for publication in Penny!
It is not very often that writers and artists are paired or have such easy access to each other. Through Penny, an artist might be inspired by your words, or you might be inspired by an artist's illustration. Submit a short piece and you will have the chance to see your words reflected in an artistic response. Don't miss this exciting and rare chance to collaborate and create something completely new with an artistically inclined stranger! When submitting, you have the option to either attempt to pair your story with a picture that is already posted, or wait for someone else to find a mate.
In addition to the Penny Engine, another refreshing element to this project is its blind submission policy. No bios are needed, and anyone can submit to the site. Also, there is a very short wait for a response! If you don't hear from the editors in a week, you can feel free to submit your work elsewhere.
All submissions, however, will not be posted to the Penny Engine.
Submission Guidelines:
All prose is limited to around 500 words; illustrations should be 300 dpi, and 4.25 inches wide by 5.5 inches tall.
Payment:
Penny pays $25 per published piece of fiction and $25 per illustration. Please note, however, that not all "completed" story and illustration matches will be published.
Publication:
Beginning in January 2016, Penny will deliver an edition of the magazine each week to subscribers' inboxes in mini magazine format. Each edition will feature three illustrated short pieces (in addition to flash fiction, they also accept creative non-fiction and prose poetry). All of the content can be downloaded via PDF, so that it can be printed out, and each week one high-res file of one of the illustrations will be included as well. 
Subscriptions:
Penny is offering a special subscription to the first subscribers to the magazine. They are considering all new subscribers "founding subscribers," and as a thank you, they are offering free personal advertising for you on the site. They recommend you use this gift to "ask someone out, talk about your beliefs, advertise your business...anything you want!" In addition, they will include a link to whatever it is you are promoting.
For $15 you get a three-month subscription with one day of free advertising.
For $27 you get a six-month subscription with three days of free advertising.
For $50 you get a one-year subscription with one week of free advertising.
Whether you decide to submit or not, at the very least check out the illustrations and see if you are inspired.
Use the artwork as a writing prompt, and explore! You never know what images might inspire you, and the chance to collaborate with other artists is a rare one that the editors at Penny have made accessible and fun! Don't miss this opportunity to (possibly) see your words in picture-form!