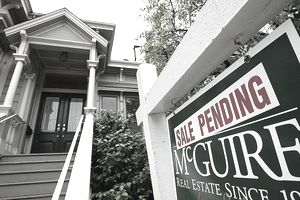 When pending sales go back on the market as an active listing, it arouses suspicions in the neighborhood. Everybody wonders what went wrong? Why did the pending sale fall apart? It could cancel due to seller's remorse, but that's a long shot.
Many home owners watch the For Sale signs in their neighborhoods. In buyer's markets, it's very common to see a pending sign pop up after two or three months on the market because the DOM are often much longer when there are fewer buyers than sellers.
Just as common is when the pending sale sign comes down and the For Sale sign is left standing.
Why Pending Home Sales Go Bad
Buyer's Remorse
Buyers get cold feet. In California, standard contracts give buyers 17 days to do inspections. During this time, buyers can cancel a contract for any reason, but the most common is fear of buying a home. During this time period, buyers get their earnest money deposit back for any reason upon cancellation.
A pending sale in the Land Park area of Sacramento recently fell apart on the day before closing. The buyer didn't give her agent a reason for canceling. She simply refused to sign loan documents and forfeited her deposit. Her undisclosed reason was cold feet. This was a buyer who years from now will likely regret her decision.
First-time home buyers benefit greatly from employing the services of an experienced real estate agent who can walk them through the process of buying a home.
An agent who notices the signs of cold feet can provide counseling services and help buyers avoid making a mistake.
Home Inspections
To the untrained eye, many homes look the same: four walls, a floor and a roof. But to a home inspector, every little crack in the wall and every spot on the ceiling could spell trouble.
Wet basements, failing roofs and malfunctioning HVAC systems are three significant problems that an average buyer can't reasonably inspect without professional assistance.
Once a home inspector points out problems in a home, buyers tend to panic. All homes have problems, even new homes. Sometimes buyers demand that sellers replace worn appliances or fix pre-existing conditions that make a buyer uncomfortable. Buyers also can ask for a credit from the seller as compensation. If the seller refuses to do either of those options, then the pending sale cancels and the home goes back on the market.
Do not make unreasonable repair or credit requests. One buyer demanded the seller buy several cans of ant poison and spray the perimeter of the home. Another demanded a $2,500 credit to replace a water heater. Hire a qualified home inspector who can explain defects and their significance.
Low Appraisals
Most home buyers take out a mortgage. To protect the lender's position, the lender will ask a buyer to pay for an appraisal. If the appraisal comes in less than the sales price, here are the options:
Pay the difference in cash.
Order another appraisal from a new appraiser.
Supply the underwriter with comparable sales supporting the sales price, hoping to change the appraised value.
Give the seller a second mortgage for the difference.
Ask the seller to reduce the price.
If the parties cannot agree to work out one of these options, the pending sale will fall apart.
Asking a real estate agent to provide you with comparable sales before you write a purchase contract can help you to keep your offer in line with recent sales. Hire a strong negotiator to get the offer accepted at a lower price.
Mortgage Loan Rejection
Until the public records are searched by a title company or lawyer, buyers might not have knowledge of liens or judgments filed against them. Unless these liens are removed, a lender will not lend, and the buyer's loan can be denied.
Buyers who don't know any better sometimes increase their debt ratios by financing large purchases while waiting for their mortgage loan to close.
Taking out a loan for a new car or financing the purchase of furniture can make a buyer ineligible for a mortgage loan. If the loan is rejected because of a buyer's impulse financing, the pending sale will go back to active.
Do not take out any new loans while waiting to close the sale of your new home. Wait until your loan records and the transaction closes. Do not make any financial arrangements that differ from those disclosed on your initial loan application.
Contingent on Buyer's Home Sale
Buyers can lose a home sale if the contract is contingent upon selling the buyer's home and that home has not sold in the time specified. Few buyers can afford to own two residences at the same time by making double mortgage payments.
Contingent offers can create a domino effect. If buyer falls though, all of the other transactions contingent upon that one closing will fall apart, making those pending sales go bad.
Depending on the contingency agreement verbiage, sellers might also retain the right to kick out a contingent buyer and cancel the contract if another buyer wants to buy the home without a contingency.
Have a back-up plan in the event your home does not immediately sell while you are under contract to buy another. Investigate taking out a bridge loan. With a little preplanning, some buyers save money by establishing a home equity line of credit before putting their existing home on the market.
At the time of writing, Elizabeth Weintraub, CalBRE #00697006, is a Broker-Associate at Lyon Real Estate in Sacramento, California.