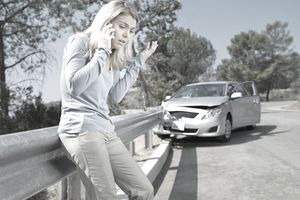 There are a several combinations of fines, fees and suspensions that a driver may face if he or she goes for a period of time without the required car insurance coverage. The severity of penalty depends on the particular circumstances surrounding the lack of coverage.
Failure to Produce Proof of Insurance: If a driver is stopped for a traffic violation, the law enforcement officer will ask the driver for his or her insurance identification card. Failure to produce the card will result in the issuance of a citation, whether insurance was actually in force at the time or not.
Simple Lapse in Coverage: A simple lapse in coverage may result in the suspension of the owner's vehicle registration for three months unless the period of the lapse was less than 31 days and the owner can prove that the vehicle was not driven during that time.
Operating Vehicle During a Lapse in Coverage: If it is determined by the Pennsylvania Department of Transportation that a vehicle was operated without proper insurance coverage, the driver's license may be suspended for three months. The owner must also surrender his driver's license, vehicle registration and tags to the PennDOT for the duration of the suspension. Further, the owner will be required to show proof of current insurance coverage and pay restoration fees before his or her registration, tags and driver's license will be returned.
Stopped for a Moving Violation without Coverage: If a driver is stopped for a moving violation and it is determined that the vehicle was being driven without insurance at the time, the following penalties and expenses may apply:
Minimum $300 fine.
Three-month driver's license suspension.
Three-month vehicle registration suspension.
Vehicle impoundment.
Restoration fees to restore both driver's license and vehicle registration.
Just in case you're thinking about it...Reasons to Not Print a Fake Auto Insurance Card