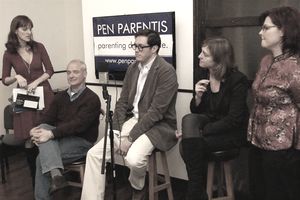 Rachel Sherman: Can you describe your inspiration for starting Pen Parentis? How did the series come to be?
 
Milda De Voe: Sure!! It was 2009 and my kids were very young—I have two and was finding it impossible to find time or energy to work on my writing. I used to have a regular lunch with a Columbia classmate, Arlaina Tibensky, who had only one child and we pledged to make each other keep writing.
Then I found out about a grant the LMCC was offering for downtown arts events, and we thought: We get so much out of each other's company--wouldn't it be inspiring to hear from other writers who have kids? To find out how others have managed all these issues we are facing? And then it was as if the universe wanted Pen Parentis to happen. A few days later my husband and I decided to try out this new restaurant that Todd English had just opened in an upscale hotel, and since their regular dining space was full, we were ushered into this gorgeous library bar. Floor-to-ceiling books and the decorator obviously was a reader because all the books were actually interesting! I wasted no time calling the manager over and asking if they might donate the space on a quiet night for a reading series. To my great delight, they immediately agreed! We won the grant, we had this gorgeous space. Arlaina was terrific in finding authors with kids - I called upon my history in small theater companies to promote the series and fill the seats.
We have (knock wood) been running monthly for fourteen successful seasons and the names we feature have just gotten bigger and bigger—and everyone leaves so inspired and happy! Arlaina even finished a novel and got it published - we have a fantastic new curator, Christina Chiu, while Arlaina works on her next book — I really feel that it's a huge blessing to be part of such a supportive community and to be able to give so much to writers at a crucial time in their careers.
Too many writers give up when their kids are small; or abandon their creative plans for more lucrative nonfiction projects. We hope to inspire authors to keep on the creative path and strike a balance between family and creative career.
The best part for me, personally, is that we have made an impact on all of our audience — not just the parents! I got an amazing letter just last week from a young woman who thanked me for inspiring her to start her own salon series when she moved from NYC to Chicago bringing writers, visual artists and filmmakers together to share their works. She had been an early participant of Pen Parentis Salons just because it was in the neighborhood, not even a parent, just a persons who loved to read. It is remarkable, the impact of this one little series!
I know that Pen Parentis has a fellowship. Can you describe who it is for, and what kind of project the prize hopes to fund?
Yes! Glad you asked this - we are very proud to offer a $1,000 annual writing fellowship to one writer with at least one child under 10 years old.  The fellowship is intended to inspire new parents at a crisis point of their writing lives, when they often feel torn between family and writing.
Sometimes it is hard to take the time to write creatively if you know that you could be spending that time either playing with your kids or earning money to buy your kids better-quality cheese sticks. Our word count changes annually in the hopes that parents will take the time to write a new, very short piece. It is too easy to just recycle your old material over and over. We want parents to sit down and write new stories. To create. In addition to the prize money, which we hope they will use to further the interest of their most creative writing—either by taking a class or hiring a sitter, or in any way that makes them better writers -- the winner gets an invitation to appear at a Pen Parentis Salon and meet at least three established writers who may become mentors. All of our previous winners have gone on to publish books and/or win prestigious prizes!
We are also honored that Brain/Child Magazine publishes the Fellow's winning piece; they are such a quality journal, and if you are a thinking parent you should really check out an issue or at least look at their online blogs. The idea to give a fellowship was a hard one since we are very underfunded and we had to charge a rather steep reading fee, just to cover the prize money. But we have been lucky in being able to lower that fee this year, and that makes us happy. Also - on a personal note,  I love the responses we get from the winners, who were often on the verge of giving up, and when they saw that this fellowship was targeted specifically to parents, thought they would give it one last shot. And now they are still writing! It gives a writer courage to be acknowledged I think. But I also feel that it gives you courage just to FINISH something! Our guidelines are on our website.
What about running Pen Parentis has surprised you?
I have been astonished at the emotional responses from people who don't live in the NYC area. I am surprised sometimes by the cathartic moments that happen on our stage and in our audiences, but what is more surprising to me is the outpouring of love I get from strangers. People who want to start something similar in their communities. We have just decided to try out an Alpha chapter out on Long Island, and if we can work it so that it is a good template, we will make that available to others online. The internet is such a great tool for building community—but real intimacy can only be found in person. I have had so many incredible phone calls with strangers over the past year, in which they pledge to help in any way they can. What did Goethe say? "Whatever you can do, or dream you can, begin it. Boldness has genius, power and magic in it."
How do you fit in your own projects and parenthood while running Pen Parentis? What are you working on now?
You are a goddess for asking. Since starting Pen Parentis, I have had to fight it like crazy for time to write! And my kids are very active - my son just got into the National Jr. Honor Society and won a "Super SONYC" award administered by New York City. My daughter is hugely into gymnastics and plays the violin. They're awesome, creative kids. But I have never stopped writing. I love it too much. For a long time, I was writing shorter and shorter pieces! I have published, on average, two stories per year since i graduated from Columbia in 2001—you can read a lot of them on my author website at www.mmdevoe.com. I have also won or been shortlisted for more than twenty writing awards in nearly every genre. Basically, I've tried it all and am just now finding my voice. At long last, I feel ready to throw myself into a literary novel. It is  a coming of age story about a gay sixteen year old accordion-playing boy who goes on a tour of his parents' homeland. It's set in 1985 Soviet Lithuania.
Have you learned anything you did not expect to from running Pen Parentis?
Yes: it turns out I am embarrassed to ask for money. I have no problems asking for help of any other kind, but something about the way I was raised in Texas makes me dislike asking for cash outright—even for a worthy cause! Probably because I went door to door so many times asking for read-a-thon pledges, or choir-trip pledges. I keep thinking people will just decide to give money out of the goodness of their hearts, without anyone asking them anything! In this time of Kickstarter campaigns and crowdsourced funding, that's something that I have definitely struggled to overcome. Oh! Another thing I was surprised by is that I don't loathe social media! I actually quite love it! Initially we built a very expensive website for Pen Parentis, one with multiple layers of privacy so that there could be online chats, and back and forth messages, hoping that membership fees would cover the costs of this ludicrously difficult-to-maintain site. We ran it that way for two years, with all the attendant hassles of management, the website breaking, all sorts of issues with passwords…and finally what happened? Facebook started "secret" groups in which no one but the other members see the posted content. And it's free! We ditched the expensive website, made a secret group, and now we have all the functionality of our expensive website without the hassle! (If anyone is a writer and parent and wants to join that secret group, just search for "Pen Parentis Behind Closed Doors" and ask to join. You must be both a parent and a writer.)  You know, I was also really happy to learn that I do not entirely suck at Twitter (we are @PenParentis and if anyone is interested, my personal account is @MMDeVoe). Instagram, however, is still beyond me. Pen Parentis may go there, but probably not boldly.
What do you see/hope for the future of Pen Parentis?
Ultimately? A fabulous national community of career-centric writers with kids who mentor other writers with kids and who keep the creative arts alive for the next generation. Conferences, panel discussions, writing centers with childcare in every major city, fellowships, monthly salons in every metropolis, intimate workshop chapters in small towns where writers with kids can meet and share new work and discuss issues they have face and how these issues were overcome… Wouldn't that be gorgeous? In the meantime, we are looking into starting a Salon series in Los Angeles, and we are also trying to come up with a good template for the small-town Chapter. We will likely put out an audiobook of our past salons at some point, and hopefully we will be able to podcast or video cast our Salons so that people who are not in a community can have access to their content. If anyone wants to help, we are a 501c3 and we are in great need of individual donations. They don't have to be large, but before any of the major foundations will even look at a grant application from us, they want to see that our work is something that is important to others - and one metric is to see how many individuals have given money to us —so if you like our goals, please do donate.
And if you find yourself in NYC on the second Tuesday of any month, September through May, stop by a Pen Parentis Literary Salon - our readers are top notch and admission is free. Wine is provided by Andaz Wall Street. Find our calendar here.  Thanks again for asking such great questions!