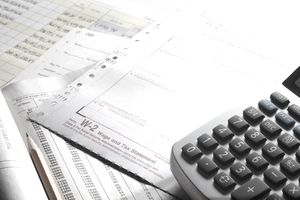 UPDATED: Filing Deadlines for Forms W-2 and 1099-MISC for 2017 Tax Year
Payroll tax filing dates for W-2s and 1099 forms were changed for 2016 taxes, and these changes continue for reporting 2017 taxes. The filing deadline for 2017 W-2s and 1099 forms (including Form 1099-MISC) is January 31, 2018. That's a month earlier than the pre-2017 filing date. 
The deadline for providing W-2 forms to employees and 1099-MISC forms to other workers for 2017 has not changed.
This deadline is still January 31, 2018. 
Note to employers: To avoid errors in W-2 forms, make an effort to get these forms to employees before the end of January, so there is time for errors to be corrected before filing these forms with the Social Security Administration. 
Many States Now Using Earlier Filing Date
In an effort to cut down tax fraud, 21 states, the District of Columbia, and Puerto Rico are setting the new deadline for W-2s and 1099's for state income taxes. Check on the filing date and other requirements for your state, to avoid penalties for late filing.
Why the Earlier Filing Deadline?
The IRS is using the earlier filing date to help fight fraud and identity theft. The IRS says, "Having these W-2s and 1099s earlier will make it easier...to verify the legitimacy of tax returns and properly issue refunds to taxpayers eligible to receive them." 
Penalties Have Increased
The IRS has increased the penalties for:
Filing to file the correct forms by the due date
Intentional disregard of filing requirements
Failure to furnish W-2s to employees. 
Annual Payroll Tasks
At the beginning of each calendar year, you must prepare specific annual reports to employees and non-employee workers, so they can use these reports in preparing their personal and business income tax returns.
You must give provide each employee with a Form W-2 and each independent contractor with a Form 1099-MISC (if you paid $600 or more to that person during the year.)  
You must also send copies of all of these reports to the appropriate federal agency (Social Security Administration for W-2 forms and the IRS for 1099-MISC forms. 
Regular monthly and quarterly payroll tax reports to the IRS are also due in January and February, and these are included in the schedule below. 
All Annual Payroll Tax Reports Due in January 2018
These reports are due January 31, 2018, for 2017 payroll taxes, including annual wage and tax reports, unemployment tax reports, and Form 941 (the quarterly payroll tax report). 
W-2 forms and 1099-MISC forms, to employees and non-employees.
By January 31, 2018, annual wage and tax reports must be given to employees and independent contractors who did work for you in 2017. That's W-2s for employees and 1099-MISC forms for contract workers and outside businesses you made payments to. If you aren't sure whether to send a 1099-MISC to someone, check this article about who must receive a 1099-MISC. 
While tax season doesn't begin until January 31 for personal tax returns, including small business tax filing on Schedule C for small businesses, some people like to get an early start on tax preparation, so the sooner you can get these forms out, the better.
W-2 Forms to SSA and 1099-MISC forms to IRS
Submit transmittal forms for W-2s to the Social Security Administration by January 31, 2018. That's Form W-3, along with all W-2s and Form 1096, along with all 1099 forms. This deadline includes forms filed electronically. 
Submit transmittal forms for 1099s to the IRS by January 31, 2018.
Unemployment tax forms: 
Form 941 - Quarterly Federal Tax Form
Form 941 (Employer's Quarterly  Federal Tax Form) for Fourth Quarter 2017 is due January 31, 2018.