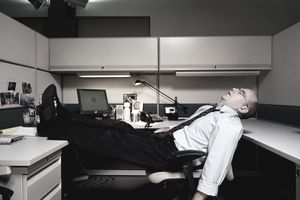 What is a Passive Activity?
Let's start with the two kinds of activity business owners can engage in. On one hand, they can actively engage in the business, participating in the operations of the business and putting their own investments at risk. On the other hand, an owner (a limited partner, for example), can invest in a business and sit back (be passive) and not participate in operations or the activities of a business.
Congress, in the Tax Reform Act of 1986, distinguished between these two types of business activity to limit the profit someone could make from passive activities. This Act included provisions limiting losses on passive activity only to the extent that these losses equal profits. Thus, the Act said that passive activity could not result in a net loss for a business. 
A passive activity is a business activity in which the investor or business owner has the potential to profit but in which the individual does not materially or physically participate. 
The IRS says there are two types of passive activity: (a) rentals (no matter what level of participation) and (b) businesses in which the taxpayer does not materially participate, such as a limited partnership, into which some owners invest but do not participate in day-to-day business operations or decisions.
Material participation in a business activity means that the individual participates on a "regular, continuous, and substantial" basis, as defined by the IRS.
The taxpayer's activity in the business must also relate to operations. 
The passive activity rules apply to:
Individuals,

Estates,

Trusts (other than grantor trusts),
How do passive activities and passive activity losses affect business taxes? 
Most business losses are not limited for tax purposes. But losses from passive activity are limited, and may only be used to offset income. In certain types of businesses, including closely held corporations and real estate companies, passive activity loss rules apply to these limits. 
Note: Passive activity losses not allowed in one year may be carried over to a future year, to the extent that they don't exceed the passive loss limits for that year. 
Form 8810: Corporate Passive Activity Loss and Credit Limitations is used to report passive activity losses on a business income tax return. The IRS says, "Personal service corporations and closely held corporations that have losses or credits (including prior year unallowed losses and credits) from passive activities must file Form 8810." 
 The bottom line on passive activity losses
If you want to invest in a business that is losing money, your tax losses may be limited if you don't actively participate in the business. 
For more information on passive activity
See IRS Publication 925: Passive Activity and At-risk Rules
See this article about Passive Activity and Rental Income
Disclaimer: The information in this article and on this site is not intended to be tax or legal advice. Every business situation is unique, and tax regulations and laws change frequently. Before you consider investing in a business as a passive owner, check with your tax professional on the tax implications of your decision.