Panda Protection Review
A Full Review of Panda Protection, a Free Antivirus Program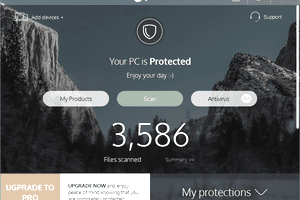 Panda Protection (previously called Panda Free Antivirus) is a great free antivirus program because it automatically collects threat detection techniques from other users that have the program installed, which helps protect against new and upcoming attacks.
Important: Panda Protection provides constant virus protection, also called on-access or resident protection, for free. This means that Panda Protection can completely replace antivirus software from companies like McAfee and Norton that charge for their software and for yearly access to updates.
Pros
Automatic and transparent upgrades
Small download file
URL and web monitoring/filtering
Automatic USB protection
Lightweight and easy on system resources
Cons
Contains advertisements
Installation is a little slow
Tries to make unnecessary changes during setup
Description
Windows 10, 8, 7, Vista, and XP are the supported operating systems
Panda Protection comes equipped with a real-time antivirus and antispyware engine to catch threats before they cause damage
Includes a built-in web monitor to protect against malicious links
You can secure the program with a password
Option to scan compressed files
Able to run a full or custom scan as well as just a critical scan
Files, folders, and particular extensions can be blocked from scans
A rescue boot disc can be built with Panda Protection to create a bootable antivirus program
Parental controls block specific web addresses, domains, programs, and folders from being accessed
Supports gaming/multimedia mode
It's easy to block/shutdown any actively running process
Option to require you to confirm removing a found virus
Gathers data from other Panda users to help avert threats
Can run scheduled scans
My Thoughts on Panda Protection
What I like the most about Panda Protection is that it puts off a particular feeling of strong security while it's running.
It's not intrusive, but instead clearly shows how its securing all running system processes and websites.
As I mentioned above, it does have advertisements within the program, mainly to try and get you to purchase the professional version.
Note: During setup, Panda Protection asks to install a toolbar for increased web security as well as a couple other web browser changes like altering your home page.