Pallet Markings: What Do They Mean?
Understanding Stamps, Brands and Paint Colors on Pallets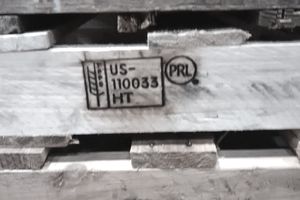 You can help determine if pallets are safe to use by understanding their markings and being mindful of their overall condition. In a previous article, I have looked at places to find free pallets. Once they are obtained, it is useful to understand the markings you may encounter. 
What Types of Pallet Markings Are Common?
Pallet markings, including stamps and stencils, can be very informative. They may indicate:
the owner of the pallet. A common way to mark pallets has been to brand or burn the mark onto the wood. It is evocative of the way cattle were branded in the past to designate ownership.
an organization that creates or inspects for quality standards related to particular pallet pools, such as EPAL, the European Pallet Association.
compliance with ISPM-15 requirements, which pertain to the treatment of pallets with regard to eliminating pests that could potentially hitchhike aboard pallets. 
or other lumber markings that may have been present when the pallet was manufactured, or which were already present on the lumber at the time the pallet was manufactured.
Typically, however, such markings will not provide an indication of whether or not a pallet may have handled some kind of hazardous material that would pose risk or other safety concern to the handler. Let's take a closer look.
Why Pallet Markings?
The purpose of pallet markings is to communicate information about pallets or the timber from which they are constructed.
For example, wood markings can indicate the grade of lumber used to make the pallets.
Markings can also communicate whether pallets have been heat-treated under the ISPM-15 certification program. This stamp is important in preventing the unintended importation of insect pests, which can cause great damage to forests where pallets are transported from one country to another.
Additionally, pallet markings that indicate the owner of a pallet. It also usually signifies that the owner wants the empty pallet returned. 
Marks Indicating Pallet Ownership
In the latter decades of the 20th Century, it was still common for buyers of pallets to stencil or brand their name on the side of a pallet. Product manufacturers or retailers would often purchase pallets with their name branded on the side of the stringer. This served to help promote the return of empty pallets back to the pallet owner. The negative of such an approach was that it also exposed the pallet owner to potential liability, if for example, the pallet failed in use and caused a loss or injury, of if a branded pallet ended up on the street and resulted in a traffic accident.
The most recognizable pallet brand from around the world is that of CHEP, which owns millions of distinctively blue painted pallets with white CHEP marking. There are other notable pallet pools that also have distinctive markings and colors. Pallet paint color is also used to help in their identification. In North America, another popular pool pallet marking is the red pallet with white lettering sported by the PECO pallet. It should be noted that both companies take strict enforcement policies with respect to protecting their pallet assets, and such pallets should not be used in unauthorized situations or dismantled for craft projects.
There is a vast array of different proprietary pallet markings that a pallet collector or recycler may encounter, in addition to the large proprietary pools such as CHEP and PECO. It is important to recognize the markings of such pallets in your locale that may be subject to assertions of ownership, so as to avoid potential legal complications.
Marks of Bodies Providing Oversight of Pallet Quality for Pallet Pools
Unlike CHEP, PECO or other similar European pools such as LPR or IPP Logipal, EPAL pallets only control the quality of EPAL pallets rather than asserting ownership. Other pools that oversee pallet quality include the 9BLOC pallet program that has been launched in the U.S. and until recently, the Canadian Pallet Council in Canada.
ISPM-15 Markings
ISPM-15 markings signal to government border inspection services that a solid wood pallet or solid wood packaging has been treated through heat or methyl bromide treatment in accordance with the standard.
Looking at the marking, the left-hand portion is the symbol for IPPC or International Plant Protection Convention, which oversees ISPM-15. In the right-hand square, the country code (XX) is followed by wood packaging or treatment facility identification (0000) as well as a method of treatment, HT (heat treatment) or MB (methyl bromide).
Lumber Grading Marks
While not critical to understanding the pallet, residual lumber grade marks may be present on various components of the pallet. Lumber grades provide a basis for ascertaining the quality of lumber purchased from various mills, thus providing greater efficiency in lumber markets. Pallet manufacturers will purchase lumber or component of a particular grade to meet the performance needs of their products, often lower grade industrial lumber. Lumber stamps typically include such information as the name of the grading agency, sawmill identification, species identification, lumber grade, as well as whether the wood is unseasoned or dried.