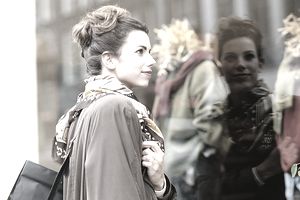 Outlet malls of yesteryear used to be run with a bare-bones retailing style. The common rules were -
Put up the tent.
Get the merchandise under the tent and onto the tables.
The bigger the pile the better.
Put men's here, women's there. Sizing? What's that?
Run with only enough employees to keep the registers going  (forget customer service).
Hire a few security guards to keep the stealing under control.
Fitting rooms? Not a chance.
Ignore the long line of shoppers waiting to get checked out.
Accept only cash and stamp everything - No Return
Rip off the labels inside the clothes so that they can't be returned to department stores.
Roll up the purchase and stuff it (and I mean stuff) into one cheap bag.
Watch as the bag rips apart before the customer can even make it to the tent entrance.
Don't offer them another bag. One per purchase! That's the rule!
That is what outlet shopping used to be like. Thank goodness for change, but it was a slow change. It took years before the concept of making the outlet shopping experience a positive one would even be considered.
Today, most outlet malls and outlet stores are run just like the retail malls and retail stores. Customer service is a priority. Charge cards are accepted and many outlet stores have their own charge cards. Most outlet stores will return merchandise (with a receipt) and return the money to the customer, not just offer an in-store credit.
And now, if your bag rips, someone will ask you if you need a new one.
Outlet Malls Attract Customers With Year-Round Promotions
Another area that has changed is with the outlet mall promotions. The outlet malls and stores have become extremely competitive with the regional mall that are within 60 miles.
For example, just like the large regional retail malls, many outlet malls now have loyalty programs that offer price perks to their customer.
Sales events, like Midnight Madness on Black Friday, are planned in advance with budgets that allow the outlet centers to give away outlet mall gift certificates throughout the events.
And unlike the old days when the outlet malls were the first to close their doors to holiday shoppers, today they are often the first to open and the last to close.
A Well Kept Publicized Secret
One reason many shoppers at the outlet malls may not know about different programs that could save them money is because they may only go to an outlet mall a few times a year. Outlet malls are often built 50 or more miles away from cities and large towns, prompting shoppers to plan day trips just to shop the outlet malls.
Also, many times people will visit malls while on vacation or if they spot one while driving down the highway and decide to check it out. The idea of trying to find coupons or other savings may not cross their mind when they make an unscheduled shopping  trip.
Luckily, today many of the outlet malls, especially those run by large real estate developers, are making an effort to communicate with their customers, regardless of how many times they shop, or where they are vacationing.
By using social media and mobile apps, the outlet malls are able to communicate faster about coupons that have been issued, or a flash sale in one of the stores, or any kind of promotion.
Mall Coupon Books
At almost every outlet mall in the country, shoppers can get mall coupon books that offer discounts at many of the outlet stores. Most outlet malls charge a small fee for the books if you just go and ask for one, but there often ways to get one for free.
Joining the outlet malls email clubs, organizing group tour to the outlet malls, finding coupons for the books at travel centers and in hotel magazines are all good ways to score a free book.
Special Discounts - Students, Military and Senior Citizens.
The outlet malls are also known for running ongoing discounts to people in the military, including their family members, students and teachers, and senior citizens.
Generally, the discount is for 10 percent. To find out if an outlet mall that you plan to visit has any of these savings, just check on the outlet mall website, or post the question on the Facebook or Twitter pages. You can also call the mall office or stop in when you get there.
Bottom-Line
Shopping at outlet malls is generally considered a fun outing and by getting extra savings, it can also be a money saver.