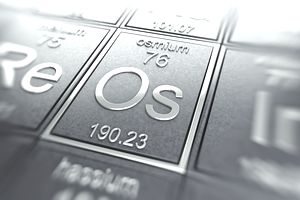 The market for osmium is one of the smallest metals markets in existence. Production numbers are difficult to obtain, but estimates peg total global osmium production at less than 100 kilograms (220lbs) per year. 
As a global producer of catalyst chemicals, BASF is a consumer and processor of osmium and rhodium. The company offers trading and hedging services for osmium and other precious metals, including gold, silver and the platinum group metals (PGMs).
However, as you see from the table below, osmium prices do not appear to fluctuate much. In fact, the lack of volatility is more a result of transparency than a shortage of competition in this niche market.
Of the limited quantity of osmium that is produced each year, much is sold as value-added products, such as osmium tetroxide, and not as a tradable spot market metal. 
Like other PGM products, osmium chemicals and catalyst prices are dependent upon the price of the metal contained, which are set by BASF on a daily basis and published under the heading Engelhard Industrial Bullion Prices (Engelhard Corp. was acquired by BASF in 2006).
Prices are set in US dollars per troy ounce (31.1g) for 99.9% min. osmium content.
Prices indicated below reflect the prices published on the first day of each month per one troy ounce of osmium.
Osmium Prices 2011-2012
Year
Month
USD/Troy Ounce
2013
January 
$400.00
February
$400.00
March
$400.00
April
$400.00
May 
$400.00
June
$400.00
July
$400.00
August
$400.00
September
$400.00
October
$400.00
November
$400.00
December
$400.00
2014
January
$400.00
February
$400.00
March
$400.00
April
$400.00
May
$400.00
June
$400.00
July
$400.00
August
$400.00
September
$400.00
October
$400.00
November
$400.00
December
$400.00
Source: BASF Corporation
Follow Terence on Google+