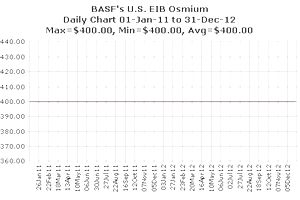 As a global producer of catalyst chemicals, BASF is a major consumer and processor of osmium and rhenium. The company offers trading and hedging services for osmium and other precious metals, including gold, silver and the platinum group metals.
Chemical and catalyst prices are dependent upon metal prices, which are set by the company on a daily basis and published under the heading Engelhard Industrial Bullion Prices (Engelhard Corp.
was acquired by BASF in 2006).
Prices are set in US dollars per troy ounce (31.1g) for 99.9% min. osmium content.
Prices indicated below reflect the prices published on the first day of each month per one troy ounce of osmium.
Osmium Prices 2011-2012
Year
Month
USD/Troy Ounce

2012

December
$400.00
November
$400.00
October
$400.00
September
$400.00
August
$400.00
July
$400.00
June
$400.00
May
$400.00
April
$400.00
March
$400.00
February
$400.00
January
$400.00

2011

December
$400.00
November
$400.00
October
$400.00
September
$400.00
August
$400.00
July
$400.00
June
$400.00
May
$400.00
April
$400.00
March
$400.00
February
$400.00
January
$400.00
Source: BASF Corporation
**Prices are for reference purposes only and should not be relied upon for business or investment purposes.**