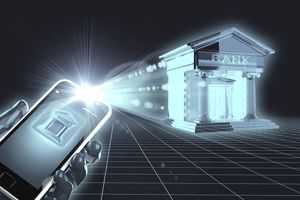 Online savings accounts almost always pay more than brick-and-mortar banks. So it pays to know how they work and how to start earning interest easily.
Opening an Account Online
The first step to higher rates is opening an account. The process is easy, and you can do everything online. That means you can get started and open a savings account online right now – no need to head to the branch, print forms, or wait a few days (and lose momentum).
In the past, you needed a "linked" account at a brick-and-mortar bank, but those days are behind us.
Where to Open an Account
There are plenty of great online banks to choose from. Look for a bank that does what you want, whether you're searching for the highest rate, or you want to get ATM fees reversed. Be sure to look for helpful features like the option to open a checking account and pay bills online, and the ability to deposit checks to your account with your mobile device.
Need a suggestion to get you started? Both Ally Bank and Capital One 360 offer respectable online savings accounts, and Ally will reimburse ATM fees (up to certain limits) if you use their checking account.
If you go with the highest paying bank, keep in mind that things will change over time. The bank with the highest APY today might fall behind in a year or so. Don't get too caught up in getting the highest rate (unless you have a huge account balance, it probably doesn't make sense to switch banks) – the important thing is simply to earn a competitive rate.
Remember to include local banks and credit unions in your search. Even some megabanks have online-only accounts, and those accounts might make sense depending on your needs. They probably don't pay as much as internet banks, but you'll have the option to work with a teller (for a fee) from time to time if the need arises.
How to Open an Account
To open your account, visit the website of the institution you want to bank with. Look for something like "open an account," and you're on your way. You'll need to provide plenty of personal information (such as your Social Security Number, date of birth, and physical address), so make sure you set aside a few minutes to complete the process. For more details, see what to expect when opening a bank account online.
The Safety of Having an Online Account
Online banking is generally safe. There are always risks, but you can manage those risks.
Digital security: it's safe to open an account online as long as the information you provide will travel over secure channels. Most banks, web browsers, and apps ensure that thieves cannot see anything you submit (everything is encrypted or "scrambled" so that it cannot be used by anybody else). Assuming your device has not been compromised – you've got up-to-date operating systems, antivirus, browsers, and firewalls – your data should be safe. However, use caution when using public Wi-Fi, and make sure you've got genuine bank apps on your mobile devices (jailbroken phones are riskier to use).
Day-to-day, online banks are typically safer than traditional banks. There are no checks in the mail to get lost or stolen, and you're less likely to walk around with a wad of cash. Instead, you'll probably do everything electronically, including moving money, paying bills, and making purchases with a debit card (note that you generally cannot make purchases or pay bills from a savings account – you'll need a checking account or money market account).